Fitness Books for Kids: Nick's Very First Day of Baseball
Book Review:
A new children's book by Kevin Cristofora and illustrated by Dale Tangeman, Nick's Very First Day of Baseball shares the playful adventures a young boy named Nick as he experiences his very first day of baseball, ever.
From the gleeful moment his mom signs him up for the baseball team, young readers ages 3-7, join Nick in his delighted anticipation of sign-up day, to getting a new glove, and meeting the team to warm-ups and learning the game. Nick's Very First Day of Baseball introduces kids to a healthy, active lifestyle using simple, fun exercises they can do everyday such as jumping jacks which are playfully taught by teaching kids to make a "rocket" and a "pencil". I've never heard jumping jacks explained that way. How clever and fun for kids! Kids will also stretch their minds with catchy little games of "find the hidden baseballs" and an interactive "coach and team shout out" review.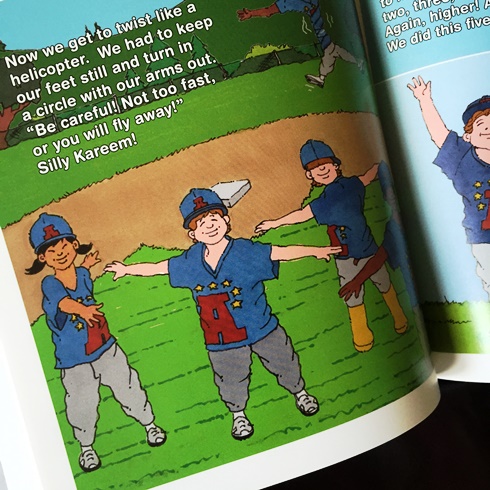 A cute little story filled with captivating illustrations, Nick's Very First Day of Baseball, is a great book to help young kids learn the game of baseball, learn and spell key terms, simple exercises that are fun to do, but the book also gives kids a sense of what it feels like to be part of a team – a characteristic that is vital to building a child's confidence and helping them understand what being part of a team means… playing fairly, showing respect for themselves and others, and offering support to other team members.
The back of the book has a page for autographs of favorite baseball players and a chance to get a FREE baseball card!
Visit thehometownallstars.com for more information on where to purchase Nick's Very First Day of Baseball. Look for future books from The Hometown All Stars such as "Magic Bat Day", "Backward Hat Day", and "Pizza Pie Day".
Reviewed with permission, The Woodstock All Stars, Hometown All Stars, copyright 2014