Post Ranch Inn Big Sur
When I attended the exclusive Los Angeles Food and Wine Festival recently, to my delight, Chef John Cox from the prestigous Sierra Mar restaurant at Post Ranch Inn in Big Sur was among the featured participants. What a treasure to meet Chef John in person and share with him the news I would be visiting Sierra Mar soon during a family vacation through the Central Coast of California, Big Sur, and Carmel. I had never had the pleasure of visiting Post Ranch Inn previously but a venture to the captivating, award winning resort retreat was sure to be a vacation highlight. From the moment we wound our way up the redwood lined drive til the last scenic photo was taken, to say Post Ranch Inn captures the soul is an understatement.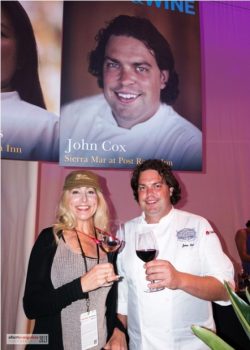 A luxurious property to many, Post Ranch Inn is much more than luxurious, it is an unsurpassed retreat in a dramatic setting like no other. Built into the cliffs along the expansive Pacific coast in Big Sur, Post Ranch began in 1867 as a true working homestead ranch settled by William Brainard (W.B) Post. Thriving orchards, cattle, and hogs, the Post family was one of the first homesteaders in the Big Sur region. Needing to navigate the rough terrain through the redwoods for supplies, the Post family helped create the first county road, the first lighthouse, and the first post office in the area. As the family grew, so did the ranch.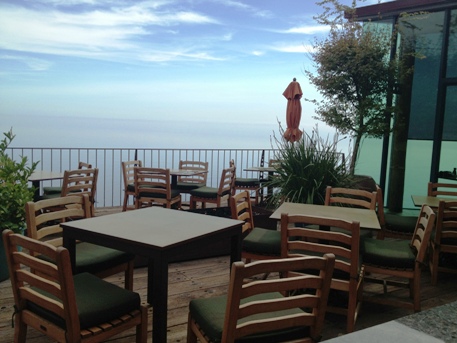 One family member, Joseph "Bill" Post, the grandson of W.B., was dedicated to continuing the family traditions and led pack trips into the wilderness and worked as a cowboy and rancher. After marrying, Bill and his wife opened a small resort property and restaurant in 1945 near the Post family home. They named it Rancho Sierra Mar and worked at the resort along with their two children, Mary and Billy. Rancho Sierra Mar closed in 1972 after Mary passed away. Not long after, Billy was drawn to capture the Post family love for the community and family hospitality by creating a new Inn, the Post Ranch Inn. Billy set out to build what they said couldn't be done and on April 9, 1992, the new Post Ranch Inn and Sierra Mar restaurant opened. Having the desire to create a true enrapturing environment set amongst the tree tops and overlooking the vast cliffs of Big Sur, televisions were banned, no mini-bars would be found, and instead, the rooms would be lavished with original local art and luscious beds, and the restaurant would become the ultimate dining experience.
Today, guests truly luxuriate in privacy in the natural surroundings at Post Ranch Inn through serene, relaxing experiences with only the sound of the ocean waves below and whispering redwood trees to stimulate the mind as guestrooms still do not include televisions or alarm clocks. Enjoy morning yoga, guided hikes, stargazing through celestial telescopes, in-room spa treatments, the scenic, tranquil spa or the couple's spa suite, and fine dining at their award winning restaurant, Sierra Mar, capture heart and soul of guests, many of whom return year after year to this one-of-a-kind nature resort.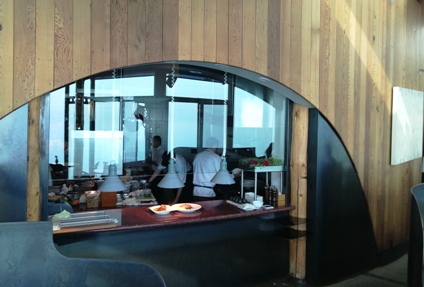 During our vacation, my family and I had the pleasure and honor of a guided walk through the picturesque, nature resort and experiencing the cuisine from Chef John Cox at Sierra Mar. Guests can enjoy menu selections a la carte or relish in the chef's offerings through three and four course pre-fixe menus. Each remarkable dining experience shines through the combination of chef's use of ingredients that embrace local place and culture, the award-winning wine cellar, and stunning views.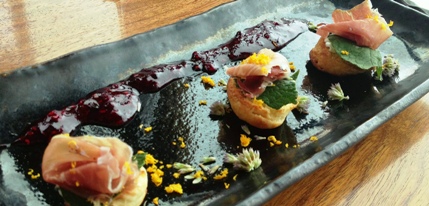 Our three-course pre-fixe lunch with wine pairing at Sierra Mar both tantalized the tastebuds while providing a luxuriating, relaxed dining environment. Chef John Cox sources only the best ingredients for his dishes. Among seasonal lunch offerings were Mangalista Country Ham with Goat Butter Biscuit, Olallieberry-Anise Hyssop Jam; Shigoku Oysters with Leche de Tigre, Red Onion Pearls, Lime and Cilantro; Crispy Squash Blossoms with Big Sur goat cheese and basil, heirloom tomato balsamic reduction; Summer Stone Fruit Salad with Marcona Almonds and Lemon Verbena Vinaigrette.
Entrees delighted with Nantes Carrot Risotto and Local Artichoke Confit, Fennel, and Torpedo Onions; Red Wine Glazed Short Ribs with Smoked Marble Potatoes, Roasted Garlic, and St. Agur Fondue; Wagyu Burger wth Smoked Bacon and Vermont White Cheddar; Slow Braised Lamb Shanks with Lemon Thyme, Hazelnuts, and Semolina Polenta; and Wild King Salmon with Crushed Black Radish, Meyer Lemon Smoked Trout Roe Beurre Blanc. For dessert, Whipped Cheese Cake served like no other with a Lemon Verbena Sauce and Graham Cracker Streusel; Chocolate Brownie Cake with Garden Mint Chocolate Chip Ice Cream and Mascarpone Cream and Cocoa Streusel; and San Andreas from Bellwether Farms Raw Sheep's Milk Cheese with Sunflower Seed Crackers and Stone Fruit Jam.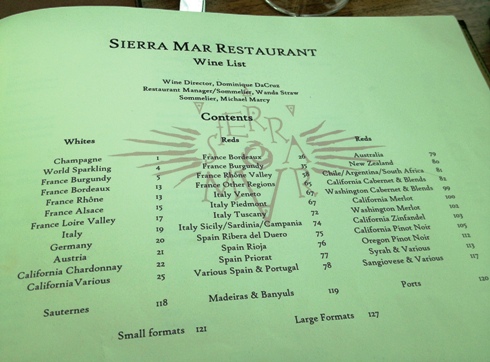 Sierra Mar restaurant features an award-winning wine list encompassing the great global and local wine regions. Pairings with my lunch selections were: Crispy Squash Blossoms paired with Lafon Macon Villages Burgundy; Nantes Carrot Risotto paired with Poggio Della Costa Gvechetto; and with the San Andreas cheese course, a Cuvee Prestige Sauternes Grand Jauga.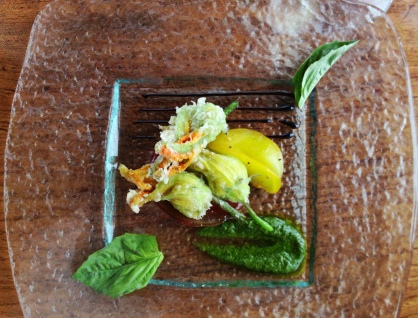 Post Ranch Inn is a Preferred Hotel Group property featuring 39 guestrooms and private homes blended in rustic elegance, luxury, and comfort with stunning ocean and mountain views.  Award-winning restaurant Sierra Mar is on property as well as secluded and scenic spa.  Post Ranch offers a selection of vacation packages, honeymoon and wedding packages as well as corporate retreat packages.
Post Ranch Inn
47900 Highway 1
Big Sur, CA 93920 USA
Hours:
8:30am-6:00pm Monday through Friday
9:00am-5:00pm Saturday and Sunday
Holiday hours vary
Reservations for accommodations and dining are recommended
(888) 524-4787 or (831)-667-2200
Sierra Mar restaurant: (831) 667-2800
Post Ranch Inn Spa: (831) 667-2200
or reservations@postranchinn.com
Many thanks to Beatrice Wolfe, Dan Priano, Chef John Cox, Soaring Starkey, and the entire Post Ranch Inn team for an unforgettable, captivating experience.  Truly a treasure to share for a lifetime.