FATflammation by Lori Shemek, PhD
Shrink the body's fat cells for quick, lasting weight loss…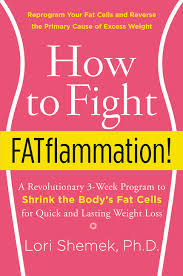 I am proud to announce my friend and colleague, Dr. Lori Shemek, has a revolutionary new book from Harper Collins going on sale April 28th that addresses what so many of us struggle with on a daily basis – weightloss. Through her many years as a coach and teacher helping people lose weight, Dr. Lori has seen time and again that endless hours of exercise and fad diets don't work because they fail to address the root cause of weight gain… inflamed and oversized fat cells.
In her new book, How to Fight FATflammation!, Dr. Lori explains how FATflammation-the chronic inflammation of our fat cells-sabotages our frustrating weight loss battles. Here, she lays out a revolutionary 3 week plan to boost your metabolism and shrink your fat cells back to their natural, healthy state by eating a proper ratio of good and bad fats, choosing specific foods and eliminating inflammatory foods such as sugar, refined grains, and artificial sweeteners from your diet to reprogram your fat cells to behave like that of a lean person.
It IS possible to lose weight, look great, and achieve the optimum health you've been striving for all of these years in only 3 weeks. How to Fight FATflammation! shows you how.
Preorder your copy now: http://fatflammation.com/


Want to try the exclusive FATflammation Smoothie? Register here for the secret code: FATflammation Smoothie
Register, then enter secret code here: http://fatflammation.com/smoothie/

Enter to win your free copy of this fabulous new book on weight loss by Lori Shemek, How to Fight FATflammation! All you have to do is register here: 
Holiday Recipes – #SOBikini Makeover Tips
Are dreams of sugarplums dancing in your head? Eggnog by the fireplace or rich, holiday appetizers? Most are are loaded with sugar, salt and fat – cheese platters, bacon-wrapped appetizers, creamy eggnogs, sugar-filled punches, cookies and rich desserts.

The holidays can be a challenging time of year to make healthy choices, but it is possible and best of all, making healthier choices can be fun and leave you feeling fullfilled instead of stuffed.  This week, here are a few tips to make your favorite holiday recipes a little lighther and yes, healthier:

Holiday Recipe Makeover Tips
Shake the salt out. Reduce salt by half in most recipes without sacrificing flavor.  Use lower-sodium versions of packaged foods when available.  Create beautiful, appetizing relish trays with crunchy, raw veggies such as cucumber slices, jicama sticks, and broccoli intertwined amongst the carrots and celery. Serve a new flavorful, homemade dip like a Roasted Red Pepper Hummus or Salsa Fresca. In soups and entrees, leave out the salt entirely and infuse flavor with fresh herbs and flavored vinegars.
Trim the fat. In baked goods, cut the fat (butter, shortening, and oil) by about half and replace with unsweetened applesauce, prune puree or mashed banana. Instead of full-fat condensed milk, use condensed skim milk in drinks, desserts and, yes, even in your favorite holiday fudge. For gravy, heat fat-free, low-sodium broth (or drippings with the fat removed); mix quinoa flour (or plain white flour) into cold skim milk and pour slowly into broth, stir until thickened and season to your liking.
More than just sweet. When making desserts or eggnog, reduce the amount of sugar by half and enhance "sweetness" by adding a bit of citrus, a little extra vanilla extract or fresh vanilla bean, nutmeg or cinnamon. Honey and molasses are great options, too! Their depth of flavor means you can use less of it. Trade out sugary toppings like frosting, jams and syrup with fresh or unsweetened frozen fruit instead.
Do you have tips for healthy holiday eating? We'd love to hear them! Post your healthy recipe makeover tips for your favorite holiday foods. Or, have questions? We are here to help – post your comments, questions and share your special holiday #SOBikini treats.
Why Diet Sodas Are Making You Fat
Certainly, there are no hidden secrets about the sugar and calorie content in soda. And, logic will tell you that consuming large amounts of regular soda commonly leads to weight gain. But, recent research shows even more that diet sodas play a significant role in weight gain in both adults and teens which in turn raises the risk for diabetes, high blood pressure, and heart disease. According to a recent article in The Orange County Register, in one study, "people who drank sodas had a 70 percent or greater increase in waist size compared to those people who skipped soft drinks" altogether. So, where is the weight gain coming from if there are zero to few calories in diet sodas?  The key is in the effect diet sodas have on our minds, tastebuds, and bodies.

Based on recent research, here are the Top 5 reasons diet sodas make you fat:

* Rationalization – Drinking fewer calories makes it easy to rationalize eating more calories.

* Food choices – In general, people who drink large amounts of diet soda tend to choose more processed snacks and higher fat "junk" foods like chips, pizza, and French fries over fresh, healthier foods of fruits, vegetables and lean proteins

* Dis-satisfied tastebuds – Artificial sweeteners overwhelm your tastebuds with a sugary flavor BUT they don't signal the same sugar satisfaction to the brain as do regular sodas and sugary desserts. The result is that cravings build.

* Cravings – Cravings most often occur from an imbalance in blood sugar. Artificial sweeteners may cause spikes in blood sugar. And, as we know from experience, cravings usually lead to poor, spur-of-the-moment food choices that involve eating too much of the wrong types of foods. For example, eating an entire sleeve of cookies vs. enjoying a naturally sweet fruit such as a plum, pear, or apple.

* Slower metabolism – Because of their immensely sweet flavor, artificial sweeteners signal to the metabolism that sugar is on its way. This produces insulin, known as the fat storage hormone, which leads to weight gain and belly fat.

Sources:
The Orange County Register
American Journal of Clinical Nutrition

Top 5 (+1) Ways Kick the Diet Soda (and Soda) Habit:

* Switch out soda for water – Studies show the average diet soda drinker drinks 3 sodas per day. Make a pact to switch out at least one of those sodas for an equal amount of water.

* Flavor water with lemon, lime, orange, or cucumber to keep your tastebuds interested.

* Switch out diet soda for tea. Black tea and green tea not only taste delicoius but they have anti-oxidant and anti-inflammation properties. But, even if you don't want black or green tea, any kind of natural herb tea is a better choice over diet soda. Swap one soda for one glass of tea each day, and sweetened southern iced tea does not count.

* Diet soda (and soda) cravings are linked to sugar cravings. Eat some fresh fruit, instead, and drink a glass of water. The natural sugars in fresh fruits will satisfy the tastebuds, help balance blood sugar, and help cravings subside.

* Change your routine. If walking by the vending machine at the office triggers the need to buy a soda, diet or regular, change the route you walk. Walk down a different hallway, stay out of the company breakroom, and carry your flavored water with you in a bottle at all times. If you are already holding your water bottle, you won't need to hold a can of soda.

* Don't buy it. Logic dictates that if you bring it home from the grocery store, you will drink it. Carry your flavored water bottle with you to the store and make a pact with yourself that when you see those sodas, pass on by. Don't buy it. Don't bring it home. You won't drink it.

Cheers to good health!
Susan, The Bikini Chef®

The Substitute Yourself Skinny Cookbook: Cut the Calories, Keep the Flavor with Hundreds of Simple Substitutions! by Chef Susan Irby

Diet cookbooks should be about dropping weight, not depriving yourself. By swapping this for that, you can turn your favorite foods into low-calorie creations–proving once and for all that you can have your chocolate molten cake, and eat it too!

In this calorie-slashing collection, Bikini Chef-to-the-stars Susan Irby offers 175 inventive recipes for switching up ingredients that keep calories to a minimum. Here, you'll get expertly crafted recipes that include offerings for every meal of the day, such as:
Flat-Belly Eggs Benedict (with turkey bacon or lean prosciutto instead of bacon or ham)–save 465 calories!
Smoked Gouda Burger (with turkey bacon and a whole-wheat bun)–save 716 calories!
Monterey Chicken Pasta (with sugar-free BBQ sauce and reduced fat cheese)–save 345 calories!
Molten Chocolate Cake (with less cream and more strawberries)–save 262 calories!
Complete with "Thin Tip" shortcuts to trim calories in little ways throughout the day and serving size suggestions, you get all the flavor–minus the muffin top!