#SOBikini Holiday Survival Kit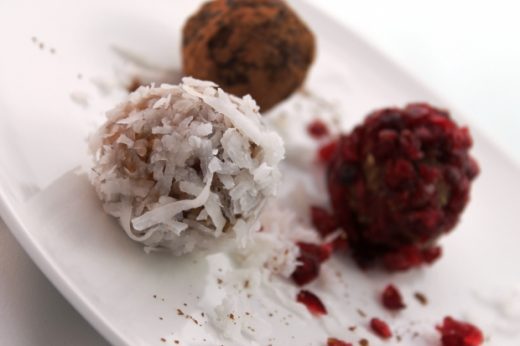 The holidays can be daunting when it comes to maintaining a healthy, fit body.  Seems every where we turn there are freshly baked breads, cookies, oodles of chocolate, peppermint bark, cakes, pie, and that's just the desserts!  Most party foods are heavy on cheese and layered with fat and sugar and holiday meals often become the perfect excuse for second and third helpings.  Here are time tested, figure flattering ways to help you survive the holiday season guilt-free and ready to start the new year in your best shape ever! Ready to be "naughty" or "nice"? Follow the "nice" tips for your Holiday Survival.
The Bikini Chef®'s Naughty or Nice #SOBikini Holiday Survival Kit:
1. Saggy Skin is for Turkeys
Crispy, golden turkey skin looks and sounds delicious to some people but is it really necessary? The answer to that is a big, gobble NO. Remove it and lose it with these "nice" tips.
Naughty: The skin of turkey and chicken is loaded with saturated fat. Per gram, all fats are higher in calories than protein or carbs, and they contribute to high cholesterol. Choose white meat options over dark meat ones which have more fat per bite than white meat. Skip the urge to fry your turkey and roast it instead. Fried turkey skins are the ultimate in high fat and the most tempting to eat.
Nice: Delicious roasted turkey breast slices without the skin. I brine the turkey first, then use a citrus based basting liquid to infuse intense flavor without adding fat.  If you'd like the recipe, post a comment below and I'll get it to you.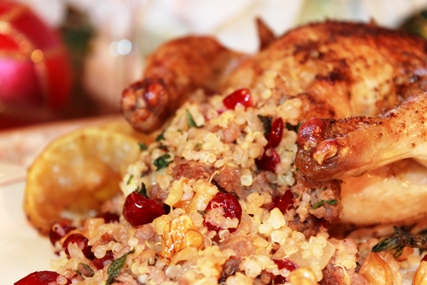 2. Stuffing is for the Birds
The word stuffing was created for a reason. In my book, stuffing means feeling overstuffed, uncomfortable, and fat. Why torture yourself when there are nutritious, carb friendly and flavorful options. Be "nice" to your body with the "nice" tips:
Naughty: Common stuffing is made from white, starchy breads, cornbread, and more bread which are not the carbs we like for a figure-flattering meal. Mixed with the bread are typical ingredients loaded with saturated fat like butter and pork sausage. A single serving of stuffing can have as much as 550 calories and 23+ grams of fat and white starches metabolize like sugar creating a spike in blood sugar levels which is why you end up craving more in just a few short hours.
Nice: Replace butter with low-sodium chicken broth and skip the pork sausage in favor of turkey sausage, lower-fat chicken, oyster, or fruit alternatives such as fresh pear or dried cranberries. Pass on the bread as the basis for your stuffing and substitute wild rice or quinoa, recipe in here: Quinoa Sausage Stuffing. Not only are these stuffings equally delicious, if not more so, they aid in the digestion of the meal.
3. Mash those Mashed Potatoes
Here we go again with the metabolism-busting starchy carbs. Mashed potatoes are most often made with high-GI (GI = glycemic index) russet baking potatoes and sometimes red potatoes. Either way, potatoes are not on the #SOBikini figure-flattering menu. They create a spike in your blood sugar which causes cravings and weight gain, period. Do we really have to have them? I say "NO", but if you must make them this holiday season, please follow these "Nice" tips:
Naughty: Classic mashed potatoes are pounded (ok, mashed) with whole milk, a ton of butter, and salt and pepper. One cup of homemade mashed potatoes made with whole milk and butter can have 237 calories, over 8 grams of fat, over 35 grams of carbs, and nearly 700 milligrams of sodium. Does that sound #SOBikini to you? YIKES!
Nice: Consider replacing russet baking potatoes for sweet potatoes. I know, they are orange, but orange is a good color for Thanksgiving and works well for Christmas, too (work with me here). Sweet potatoes have a better GI ratio and are dense in nutrients such as beta carotene and calcium. If you must have classic mashed potatoes, use low-fat milk or even almond milk to get the creamy consistency, throw in some freshly roasted garlic for depth of flavor, and a few freshly chopped herbs like Italian parsley or thyme. Skip the butter altogether and drizzle with a hint of extra-virgin olive oil when serving. And for the salt, always use a natural sea salt and lots and lots of cracked black pepper – spicy is always a good thing and a great metabolism booster.  As well, consider serving other side dishes like roasted brussels sprouts with a balsamic glaze or oven roasted asparagus.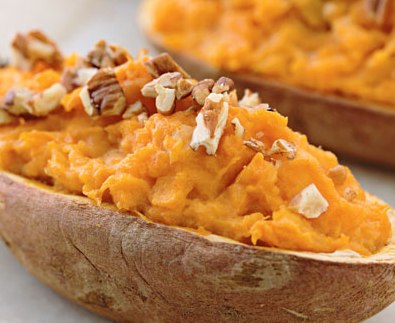 4. The Sweet Potato Casserole from h*ll
I grew up in the South so I know all about the traditional Sweet Potato Casserole. In fact, if you have my book, Cooking with Susan, Southern Family Favorites, the famous Irby recipe is in there. But, I don't serve that at my house anymore. I've replaced the high-sugar casserole with, you got it, mashed sweet potatoes above, or roasted sweet potatoes. If you MUST serve the Sweet Potato Casserole, follow these "nice" guidelines. Small changes make big differences.
Naughty: The traditional Sweet Potato Casserole has butter in the sweet potatoes, butter in the topping along with brown sugar and sugary cornflakes, and more sugar added to the sweet potatoes and then even another layer of sugar from the marshmallows. We really don't need all that sugar and butter. Not only will you feel better without it, but you'll be able to actually taste the flavors of the sweet potatoes. Isn't that the whole idea?!
Nice: Sweet potatoes are one of the most nutritious vegetables out there when prepared correctly. They've got vitamins A and C, plus a dose of calcium and potassium. Leave out the butter, cut the sugar to a quarter of what the recipe calls for, skip the marshmallows and if you are making the nut topping like my family does, use superfood walnuts instead of pecans, 1 tablespoon of brown sugar, unsweetened cornflakes and half the amount of butter (or use half the amount in coconut oil). You'll cut the fat by over half and reduce the overall calories by nearly 100 per serving. Better yet, try my Baked Citrus Sweet Potatoes!
5. Fancy Fattening Finger Foods
Finger foods got their name because people can't keep their fingers off of them. They are addicting and one of the biggest contributors to mindless eating. How many buffet party tables have you stood over hoarding meatball after meatball while talking to your friend? And, meanwhile that cute holiday party dress you are wearing is expanding?
Naughty: Some of the biggest finger food culprits – blocks of cheddar cheese, salami, jalapeno cheese poppers, storebought Italian-style meatballs, sweet and sour meatballs, deep fried anything, spanikopita… the list is endless. Appetizers are bite-size for a reason – to make them easier to eat. Let's move to "nice"…
Nice: When at a party filled with hors d'oeuvres, tray passed or buffet style. Move away from the food. There is no reason to have your conversation by the food. Take the conversation outside, into another room, and stay away from those little bowls of nuts and candy. When serving foods at your party, try these #SOBikini alternatives — chilled shrimp, fresh cut vegetables like jicama, celery, and red bell peppers, serve fresh cut fruits like berries, kiwi, and pineapple. Wrap asparagus in proscuitto, stuff dates with feta or goat cheese and wrap with proscuitto. Serve lower fat, high flavor foods like 5-Spice Chicken (recipe upon request) on Endive leaves instead of crackers, and Mini Grilled Chicken Skewers with a Roasted Red Pepper remoulade. Bring a low-fat, high flavor appetizer to the party you are attending so you KNOW you have at least one figure-flattering dish to enjoy.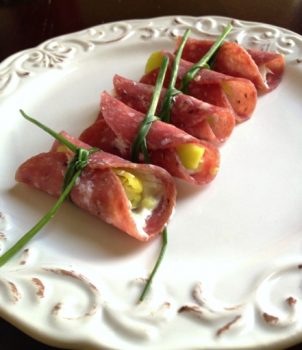 6. Pigs in a Blanket, Really?
Who is the mastermind behind the super unappealing appetizer called "Pigs in a Blanket"? Really?? I will never understand the thrill of eating these. I've tried them. I had to just to see what all the fuss was about. I still don't get it. There are so many other calorie-worthy dishes packed with flavor and that quite frankly, look more appealing and have a more appealing name. If you really want a pig in a blanket, grab a blanket, find a cute pot belly pig and snuggle up.
Naughty: Another steer-clear appetizer, each bite-sized piggy has 6 grams of fat, lots of sodium, and little to offer in the way of nutrition. Did I mention the name is unappealing and they really don't make a pretty presentation on your buffet table. Just skip them, please, piggy please.
Nice: Fruit-in-a-blanket is a great alternative and more satisfying. Truth! Wrap fresh or dried fig wedges with a thin strip of prosciutto and bake for 8 minutes at 375 degrees. Add a smidge of goat cheese that you've mixed with a tad of orange zest, if you like. Wrap pepperoncini with reduced fat salami (photo above), I've done tastes tests with friends; they can't tell the difference. Wrap asparagus with proscuitto and don't bake them, just enjoy. Wrap practically anything with prosciutto and you'll feel better, look better and you can call it something nice like : Figs Wrapped in Prosciutto with Citrus Goat Cheese. Yum! Bring these to a party and they'll be a hit!
7. Carmel Popcorn is a Bikini Buster
I'll bet no one loves popcorn more than me. "Popcorn is FUN," I exclaimed at a party once and the crowd looked at me like I was insane. Popcorn is great for a party and is high in fiber so it's filling. It's a delicious, fun option at the dessert table for parties and kids of all ages love it.
Naughty: Large tins of flavored popcorn have become a popular holiday gift. Save the tins for holiday decorations but give a #SOBikini pass on the sugary, syrup-filled caramel popcorn and other sweet flavors. There are other ways to enjoy it, see "nice".
Nice: The popcorn crunch is satisfying to the tastebuds and as mentioned above, popcorn is filling. Toss popcorn with blackened seasoning, Italian seasoning or enjoy it plain. It's more fun than the sugary kind as it packs a quick metabolism boost and you'll feel more sassy without the weight gain from empty sugar calories. Think about donating the caramel popcorn to a food bank or share it at the holiday office party, if you must.
8. Knock-Off that Eggnog
Wow, I love a good eggnog during the holidays and I serve it at my parties in a lower fat version. Friends will never know the difference in the full fat and the lower fat unless you fess up.
Naughty: Did you know a single cup of eggnog contains about 340 calories and 19 grams of fat. Not on the #SOBikini friendly list! Skip the full fat versions, even in moderation.
Nice: Make your own low-calorie egg nog with nonfat milk, orange zest, vanilla, half the eggs and one egg white, 2 tablespoons of sugar or stevia per recipe, not serving.
9. Handle those Holiday Cocktails
Cocktails can consistently be a problem during the holidays but they don't have to be. Learn to love more slimming options with these "nice" suggestions.
Naughty: One serving of a White Russian even when made with light cream has about 350 calories and 13 grams of fat of which 8 of those are saturated fat. Cocktails with the words mocha, hot buttered, mud slide, and those that are creamy white or a variation thereof are NOT the ones you want to choose in keeping your sexy figure. Avoid those and swirl one of these "nice" cocktail tips:
Nice: Go for lighter colored spirits like gin, pisco, or vodka. Mix with anti-oxidant ingredients such as fresh ginger, pear puree, berry purees, with no added sugar or with a touch of honey. Orange spritz is always delicious as is mulled wine, pomegranate and fresh herbs like mint and rosemary. Add a splash of sparkling water to white wine or cider for an instant fizz. You'll stay on #SOBikini track and you won't miss the fattening stuff, promise.
10. Cakes and Cookies
Cakes, cookies, pies, tarts… you most likely won't be able to resist them all but you can make better choices and still feel like you are not missing out.
Naughty: Research shows that starchy carbohydrate cravings may increase during fall and winter so it's not surprising you want to grab for the starch that's right in front of you, no matter what the food. Help balance those cravings by snacking on a few almonds and enlisting the help of these "nice" tips here:
Nice: There are a lot of tips in here. Let's start with baking. When baking at home, eat an apple before you start. The pectin in apples is a soluble fiber that helps regulate metabolism and stave off cravings. Now you can bake more easily without licking the bowl clean. This holiday season, switch up your usual holiday favorites by trying new lower fat, lower sugar options that taste good. Cut back on the amount of sugar used in recipes. Most recipes advise way too much sugar than is actually needed. Try different ingredient options like quinoa flour, applesauce as a sweetener, or a little honey. Switch out some of the sugar with stevia – a natural sugar.  Better yet, enrich baked desserts with protein and omega-filled ingredients like chia seeds, flaxseeds, and ground almonds. Easy swaps or adds that aid digestion and help prevent cravings.
When at a party, have one bite of the dessert. At a party recently, me and 5 other ladies hit the dessert table together. Instead of mowing through it like cattle, we each selected one dessert and had a tiny little bite just for taste. Then, we each shared with the other which dessert was calorie worthy. To our surprise, there was only one dessert we each felt was calorie worthy so we then shared  a slice or two! We made it a team event and it was fun. No one felt as if they were missing out on something tasty AND we each enjoyed dessert guilt-free and party dresses still fitting.
Survival Kit Bonus:  Exercise at least 30 minutes every single day – especially during the holidays.  Walking counts but make sure you walk intention and a pep in your step.  Then, if time permits, follow with one of my workouts – either 15 minute abs, 20 minute legs and butt or 15 minute arms.  Move it to keep it toned and tight.
You've got your Holiday Survival Kit… bring on the Holidays!
Cheers!
The Bikini Chef®