Holiday Recipes Paired with Mezzacorona Wines

When I was first introduced to Mezzacorona Wines, I saw them as a simple, ready-to-drink table wine that consisted primarily of pinot grigio available at an affordable price. Little did I know that Mezzacorona produces a variety of wines, from Pinot Grigio to Cabernet Sauvignon, that are perfect pairings for the Holidays and anytime.
From the northern region of the Dolomites in Italy, Mezzacorona vineyards benefit from a spanse of microclimates that range from Mediterranean to Alpine. Free-flowing breezes cascade over lakes and glaciers allowing Mezzacorona varietals the ability to flourish in the aroma and flavour of their natural terroir.
Here are a few of my favorite Mezzacorona Wines that I have paired with delicious #SOBikini holiday or to-be-enjoyed anytime recipes:
Mezzacorona Pinot Grigio
Cultivated at the foot of the Italian Dolomites, this moderately priced, crisp, refreshing Pinot Grigio is fruit forward with notes of pear and apple. Perfect to sip chilled on a Sunday afternoon or pair with practically any simple chicken dish, light pasta, shrimp and other seafood dishes and fruit.
You've heard you should never cook with a wine you wouldn't drink. Wine is a natural flavor extractor and for those concerned about alcohol content, the majority of the alcohol cooks off leaving the essence of the flavor of the wine to add depth to the food. I'm not advocating you cook with your vintage 1971 Bordeaux, but definitely a delicious wine like the Mezzacorona Pinot Grigio is rich enough to bring depth to your recipes yet light enough not to overpower the ingredients. I've included recipes below to both enjoy the wine with the dish or to use the wine as a powerful, flavorful addition to the dish.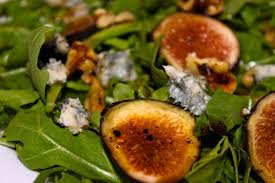 Arugula with Figs and Stilton Cheese
Serves 4
2 cups inexpensive port wine
¼ cup balsamic vinegar
½ tablespoon butter
12 dried figs
½ cup walnut halves
½ teaspoon cayenne pepper (or a little less, if you prefer less spice)
4 cups arugula greens
½ pound stilton blue cheese (or gorgonzola)
Sea salt
Ground black pepper
In a small saucepan, combine port wine and balsamic and heat over medium low heat until mixture is reduced to about ½ cup and forms a syrupy consistency. Set aside.
In a separate saucepan, heat butter over medium heat and add figs, walnuts and cayenne pepper. Stir to coat and heat until walnuts are lightly toasted, about 3 to 4 minutes.
Arrange arugula onto salad plates. Top with fig mixture, evenly distributed among plates. Top with equal amounts of cheese. Lightly season with sea salt and black pepper. Drizzle with Port Wine Syrup and serve.
Nutrition:
Calories: 468.7
Fat: 27.0g
Carbohydrates: 41.5g
Protein: 16.9g
Fiber: 6.9g
Sodium: 805.1mg
Serve this simple, healthy, delicious salad as a side dish to Holiday turkey or Prime Rib.
Perfect wine pairing: Mezzacorona Pinot Grigio balances the spice of cayenne and robust blue cheese flavor.
Angel Hair Shrimp with Leeks
Serves 6
1 pound angel hair (or thin spaghetti) pasta
6 tablespoons unsalted butter, divided
1 pound large shrimp, peeled and deviened
Juice of 1 lemon
1/4 cup Mezzacorona Pinot Grigio
3 tablespoons capers
1/2 large red onion, chopped
1 large leek, rinsed, tips and root trimmed, some green and all white parts chopped
1/2 teaspoon sea salt
1 teaspoon fresh ground black pepper
1/2 cup finely grated parmesan cheese
Cook pasta according to package directions. Drain and set aside.
In a large saucepan, melt 3 tablespoons of butter over medium heat. Add shrimp, lemon juice, wine, and capers. Saute about 3 minutes or until shrimp are just cooked through. Transfer mixture to a mixing bowl and set aside.
Without wiping out the pan, heat remaining butter over medium high heat. Add red onion, leeks, salt and pepper. Saute until ingredients are tender, about 4 minutes. Add pasta and shrimp and toss all to coat. Serve on plates and finish with about 2 tablespoons of parmesan cheese.
Nutrition:
Calories:459
Fat:15.2g
Carbohydrates:61.8g
Protein:18.4g
Fiber:2.2g
Sodium:533.9mg
Enjoy this light pasta as a quick, easy entree for out-of-town guests during the Holiday season or as a family meal year-round. The alcohol in the Mezzacorona Pinot Grigio extracts flavors of leek and red onion while adding flavors of pear and apple to enhance the overall flavors of the the dish including delicate sweet shrimp.
Perfect wine pairing: Best of all, remaining pinot grigio from cooking? Chill down the Mezzacorona Pinot Grigio and enjoy a glass with this soon-to-be yummy family favorite.
Mezzacorona Pinot Grigio Trentino
Riserva 2009
This incredibly delicious wine has such intense aroma and depth you'd almost think it was a Chardonnay. Refreshingly not quite as bold as most Chardonnay wines, this Pinot Grigio Riserva was a welcome and delightful surprise to my palette. This 100% Pinot Grigio wine is cultivated in the hills and deep valleys of the Italian Alps (I love it already)and 40% of the wine is fermented in steel tanks but is then merged with 60% that has been fermented in small oak barrels allowing it to gather its depth of flavor. A natural match for Thanksgiving dinner of Turkey and mashed potatoes, pre-dinner Holiday appetizers that involve cranberry, goat cheese, and smoked meats and fish, definitely give this wine a try. I believe you'll be adding this to your "wines to be enjoyed now" favorites.
Cranberry Sage Quinoa Sausage Stuffing
Serves 8
1 cup quinoa
2 cups water (or vegetable or chicken broth)
1 tablespoon unsalted butter
1 medium yellow onion, chopped
2 cloves garlic, chopped
½ pound Italian sausage
½ pound Italian turkey sausage*
15 medium sage leaves, chopped
1/2 tablespoon chopped fresh thyme leaves
½ to 1 teaspoon sea salt
1 teaspoon ground black pepper
¾ cup roughly chopped toasted walnuts
¾ cup dried cranberries
Make quinoa by bringing quinoa and water (or broth) to a boil over high heat in a medium stockpot or saucepan. Once boiling, cover and reduce heat to medium low. Cook for 15 minutes or until the liquid has been absorbed. Set aside, covered, until ready to use.
In a large saucepan, melt butter over medium heat. Add onion and garlic and saute 1 and a half minutes. Add Italian and turkey sausage and cook until browned, breaking up with a wooden spoon during the cooking process. Stir in sage, thyme, cooked quinoa, salt and pepper until well combined. Stir in walnuts and cranberries. Serve as a side dish or stuff cooked Cornish hens or turkey and serve on a platter.
*NOTE: If turkey sausage is not available Italian seasoned, add ½ tablespoon Italian seasoning to the recipe when adding the turkey sausage.
Nutrition:
Calories: 333.2
Fat: 19.0g
Carbohydrates: 28.0g
Protein: 14.5g
Fiber: 3.2g
Sodium: 274.2mg
Stuff the turkey with delicious good health this Holiday season. So tasty, diners will not realize this dish is protein and fiber rich. Italian seasoning, sweet cranberry, nutty quinoa, and savory flavors of sage and thyme bring warming flavors to this dish along with palette pleasing crunchy textures of quinoa and walnuts.
Perfect wine pairing: Mezzacorona Pinot Grigio Trentino, Riserva 2009
Yellow Bell Pepper and Leek Soup
Serves 8
1 tablespoon plus 8 teaspoons olive oil
1 clove garlic, chopped
1 large shallot, chopped
2 large or 3 medium yellow bell peppers
2 leeks, root and green parts trimmed 3/4, white and remaining green parts, chopped
2 celery stalks, chopped
½ teaspoon cardamom
½ teaspoon cumin
1 teaspoon white pepper
½ teaspoon sea salt
4 cups vegetable broth
Fine zest of 1 lemon
¼ cup roughly chopped fresh sage leaves
¾ cup non-fat plain greek yogurt
8 teaspoons chopped fresh chives for garnish
Heat 1 tablespoon of the olive oil in a large stockpot over medium-high heat and add garlic and shallots. Stir until fragrant, about 2 minutes. Add yellow bell peppers, leeks, celery, cardamom, cumin, white pepper, and sea salt. Saute about 5 minutes. Add broth, lemon, and sage and bring to a low boil. Stir in yogurt until well combined.
Working in batches, puree bell pepper mixture in a food processor or blender until smooth. Serve in ¾ cup servings with a drizzle of 1 teaspoon of olive oil and 1 teaspoon of chopped chives.
Nutrition:
Calories: 93.5
Fat: 5.3g
Carbohydrates: 9.5g
Protein: 2.9g
Fiber: 1.0g
Sodium: 492.1mg
As with most all #SOBikini recipes, this soup is packed with nutrients and fiber. The perfect soup for the Holidays and cooler weather, this easy, pureed soup is actually delicious served hot or cold. Sweet yellow peppers, fresh herbs, and leek provide flavor while non-fat plain greek yogurt gives a creamy texture without adding unwanted fat.
Perfect wine pairing: Mezzacorona Pinot Grigio Trentino, Riserva 2009
Mezzacorona Moscato 2011
Moscato is typically thought of as a dessert wine. From an area just north of Garda Lake in Northern Italy, the intense flavors of this Mezzacorona Moscato are balanced by both fruit and spice making it a natural pairing for richly flavored desserts, bold cheeses, and even savory dishes with depth of flavor like mushroom and creole.
Lovely Lemon Souffle Glace
Serves 6
6 egg yolks
1/2 tablespoon cold water
1/2 teaspoon sea salt
1/2 tablespoon fresh lemon juice
1 teaspoon fresh lemon zest
1/4 cup Marsala wine
1/2 pint fresh raspberries
1/2 pint fresh blackberries
In a double-boiler, beat the egg yolks together with the water using a hand mixer or wire whisk until they are foamy and light. Whisk in the sugar, salt, lemon juice, zest, and Marsala wine. Beat over hot, but not boiling, water, until thickened and fluffy. Spoon into martini glasses and top with the berries. Serve warm.
Nutrition:
Calories: 158
Fat: 4g
Carbohydrates: 22g
Protein: 4g
Fiber: 3g
Sodium: 3mg
So flavorful you will be more than satisfied with a less-than-large portion. Bright lemon flavors and raspberry compliment the tropical fruit and spice of the wine. A delightful way to complete an already delicious meal.
Perfect wine pairing: Mezzacorona Moscato 2011
Bourbon Pumpkin Cheesecake
Serves 10
For Crust:
3/4 cup graham cracker crumbs
1/2 cup finely chopped pecans
1/4 cup packed light brown sugar
1/4 cup granulated sugar
1/2 stick (1/4 cup) unsalted butter, melted
For filling:
1 1/2 cups solid packed pumpkin (fresh pureed or canned without syrup)
3 large eggs
1/2 cup packed light brown sugar
2 tablespoons heavy cream
1 teaspoon vanilla extract
1 tablespoon bourbon
1/2 cup granulated sugar
1 tablespoon cornstarch
1 1/2 teaspoons cinnamon
1/2 teaspoon freshly grated nutmeg
1/2 teaspoon ground ginger
1/2 teaspoon sea salt
3 8-ounce packages cream cheese, low fat okay, room temperature
For topping:
2 cups low fat sour cream
2 tablespoons granulated sugar
1 tablespoon bourbon
Make crust: Butter or spray with nonstick cooking spray bottom and sides of pan. Cut out a circle using parchment paper to line the bottom of the pan.
In a medium mixing bowl, stir together graham cracker crumbs, pecans, both sugars, and butter until well combined. Press crumb mixture evenly onto bottom of pan and 1/2-inch up side of pan. Chill crust for one hour.
Make filling and bake: Preheat oven to 350*F. In a large mixing bowl, whisk together pumpkin, eggs, brown sugar, cream, vanilla,and bourbon until well combined. Set aside.
Separately, using a standing mixer or mix byhand using a wooden spoon, combine granulated sugar, cornstarch, cinnamon, nutmeg, ginger, and salt. Add cream cheese and beat with an electric mixer at high speed until creamy and smooth, about 3 minutes. Reduce speed to medium and add pumpkin mixture and beat until smooth.
Pour filling into prepared crust, smoothing the top. Place springform pan in shallow baking pan or on baking sheet (in case springform pan leaks). Bake until center is just set, about 50 to 60 minutes. Transfer to wire rack and cook about 5 minutes, leaving the oven on.
Make topping:
In a small or medium bowl, whisk together sour cream, sugar, and bourbon. Spread over top of baked, slightly cooled, cheesecake. Return cheesecake to the oven and bake for 5 minutes.
Cool cheesecake completely in pan on wire rack for about 3 hours. Cover and refrigerate until cold, at least 4 hours. Remove sides of pan and bring to room temperature before serving. Cheesecake can be made 2 days ahead and kept well-covered and refrigerated.
Nutrition:
Calories: 513.3
Fat:30.6g
Carbohydrates:54.5g
Protein:12.3g
Fiber:1.2g
Sodium:387.5mg
This to-die-for cheesecake has all the makings of a meal… pumpkin, cheese, and spices. Richly flavored your tastebuds will say "more please" but this dessert is so filling you could even share and keep it even more #SOBikini! A great dessert for Fall and the Holidays, keep this recipe in your record books to repeat year after year.
Perfect wine pairing: Mezzacorona Moscato 2011
Visit Mezzacorona online for more information: Mezzacorona Wines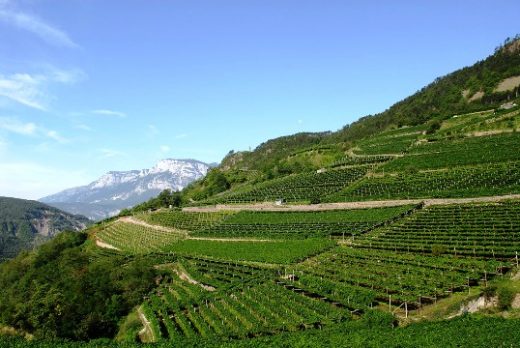 Catch The Bikini Chef® on Bikini Lifestyles "Wine Dine and Workout" on Talk Radio 790 KABC radio in Los Angeles Saturday nights, 7pm PT or stream LIVE online at http://www.kabc.com and iHeartRadio.  Visit: http://www.bikinilifestyles.com Check your local TV listings for Bikini Lifestyles "Wine Dine and Workout" airings in your town!
Books by The Bikini Chef®:
The Clean Separation
The Complete Idiot's Guide Quinoa Cookbook
Substitute Yourself Skinny
Boost Your Metabolism
$7 Healthy Meals
$7 Quick and Easy Meals
$7 Pressure Cooker Meals
Cooking With Susan : Southern Family Favorites