HEALING REMEDIES and RECIPES – Dr Bond and Chef Susan Irby Healing Classroom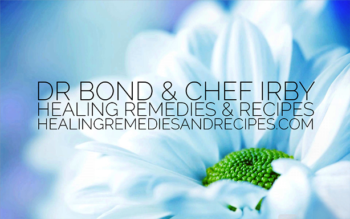 A health revival is happening! We are very dedicated in bringing vital health information how food will help the body to heal itself. While medical science looks for a cure, the answer is on our plate!
In the HEALING REMEDIES & RECIPES classroom, you will learn the important combinations of food, the nutrients in your food and how God gave us this food to nourish, maintain and heal our bodies. Ward Bond, PhD and Celebrity Chef Susan Irby will unearth the health and healing secrets to help you reverse disease with healing information and delicious, targeted recipes you can make at home.

Register Now and you will be able to access the REMEDIES and RECIPES healing e-classroom for a weekly lesson on a health condition, the natural means to reverse it and the tasty healing nutrition-rich recipes to help your body heal.
Here are a few of the topics covered thus far with new lessons posting each week:
*The Blood (Anemia, Sickle Cell Anemia, Blood Building Smoothie)
*Infection Fighting Foods
*Easter Special Edition – The Meaning of Passover & The Passover Meal
*Hormonal Dysfunction in Women: Endometriosis & Hormonal Correction
*Bone Building Foods & How to Prevent Osteoporosis Correctly
*Improving Joint Health Naturally
*Thyroid Health – Hypothyroidism
*The Power of Berries
*The Power of the Coconut
*Fibrocystic Breast Disease and Ovarian/Uterline Fibroids
*Summer Grilling : The Food Healing Way
*Healthy GUT = Healthy YOU!
*Skin Care health and RECIPES
*Eat Your Water – Naturally Hydrating Foods
*and more valuable health conditions and delicious recipes each week

*This statement has not been evaluated by the FDA. The information on this website is not intended to diagnose, treat, cure or prevent any disease. Always seek professional healthcare if you suspect an illness or disease.