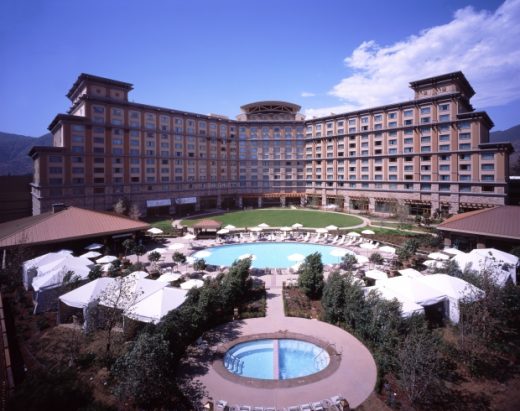 Expect the un-expected when you visit PALA Casino Spa and Resort! Situated in the beautiful hills and valley of the Palomar Valley in north San Diego County, this casino spa and resort is like no other. During my recent visit, the one word I embraced and kept repeating was PALA-mazing! Beauty, impeccable service, and food that wows your tastebuds from the here, now and beyond, PALA Casino Spa and Resort is a MUST-STAY resort to place into your travel plans.
From the moment you arrive, relaxation, enjoyment, and VIP friendly service welcome you into an inviting, serene expansive marble lobby with a panoramic view of the grassy lawn beyond which lies the resort pool. Experience number one in my "expect the un-expected" PALA-mazing stay. Sure, if you crave the bustling, bing-bing-bing sounds of the casino, you are welcome to enter the resort through the casino entrance, however, at this exclusive resort, you have options, and I LOVE options.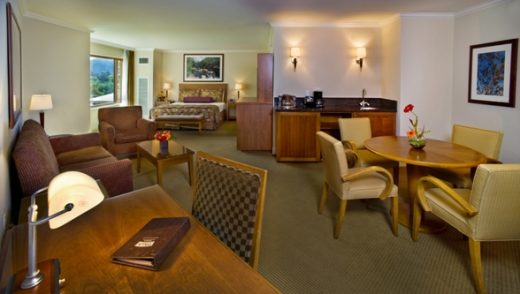 After check-in at the quiet, spacious Elite Lounge, my husband and I were escorted to our Luxury Suite overlooking the lawn, pool, and spa. Experience number two in my "expect the un-expected" PALA-mazing stay. Enjoying the gorgeous view of the resort and mountains, the view outside was as beautiful as the view inside. Marble showers, a yes-I-did-dip-into the relaxing, bubbling with comfort in-room jacuzzi-tub, with over 750-square feet of living space, there was enough room in our suite to do a few yoga poses. Sound delightful? You must visit PALA, pronounced "PAAAH-LA", by the way, hence my term for this retreat… PALA-mazing! Even the 425 Deluxe guest rooms on property have 507-square feet of living space, so I can assure you, there is enough room in any room or suite at PALA to perform yoga poses. If you prefer more room, however, PALA offers three other types of suites ranging up to 1,039 square-feet with separate sitting rooms, bar, large flat-screen televisions, and exquisite marble bathrooms.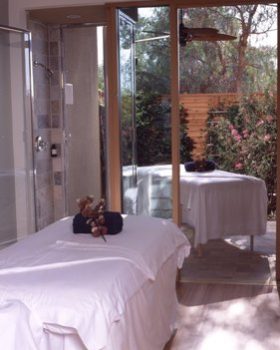 Ready for experience number three in my "expect the un-expected" PALA-amazing stay? Forget yoga poses in your room, PALA Casino Spa and Resort has a state-of-the-art fitness center with treadmills, even a pink one that during the month of October for every mile run a donation goes to the Susan G. Komen Breast Cancer Foundation, elliptical machines, stair climbers, free-weights, pilates balls, and strength training machines. Open 24 hours a day and with a beautiful view of the lawn and pool, working out has never been more inviting!
After a good workout, relax sore muscles with a treatment in the PALA Spa! Named in the Top 100 Best Spas in America, PALA Spa has 14 treatment rooms each with a private patio. With a full menu of massage, facial, body treatments, relish in pampering treatments like Seasonal Body Butter massage, Energizing Spirulina salt rub, and Radiance and De-Stressing Facials. Opting for the spa treatment than the casino, I stepped into The Journey Facial. A citrus, mint aromatherapy soothed my soul while Katrina, the sweetest facial esthetician ever, spoiled me deliciously rotten with her "signature" butterfly hand-kissed that gently fluttered across my face. Equally enrapturing was her deep knowledge of everything "spa" and her love of everything PALA as she delightfully shared her love of PALA during her eight years of employment, and what was particularly impressive about her was her high regard for the CEO, William "Bill" Bembenek, as he worked his way to the top position of CEO from beginning as Director of Slot Operations only twelve years ago. It is not often you have staff share with you the love of their job, the company and as part of my PALA-mazing experience, I heard it quite often during my visit from employee, to employee, to employee including the Chefs… PALA-mazing experience number four of "expect the un-expected"… Extraordinary meals at every bite.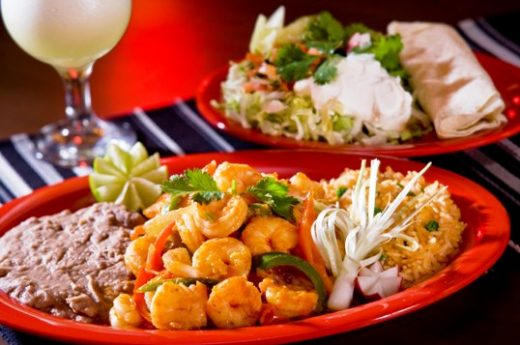 Yes, I am The Bikini Chef®. I love everything food and wine, but how often have you visited a casino and dined in their signature restaurant? Perhaps many but chances are, there was ONE signature restaurant. At PALA Casino Spa and Resort, you can dine your way through incredible food at every single meal, every single day or night! I kid you not! The food at PALA is… wait for it… PALA-mazing! Helmed by Executive Chef Robert Camerota, each Chef brings individual talent beyond expectation. Each restaurant, including the buffet, ESPECIALLY the buffet, is to-die-for! Never in my life have I tasted melt-in-your-mouth cuisine at every meal in so many different restaurants in one casino. It is not possible. It does not exist. Anywhere else it may not, but exquisite cuisine abounds at PALA Casino Spa and Resort.
PALA has ten, TEN, restaurants on property and let me share with you, they are all PALA-mazing! Usually when I hear the word "Buffet", I go running at top speed in the other direction. But PALA's buffet, aptly named Choices, makes oodles and oodles of fresh foods daily… Chateaubriand, all-you-can-eat lobster night, Asian dishes, Italian dishes, Mexican dishes… foot-long hot dogs for the kids and a housemade dessert buffet with a real ice cream parlor. PALA-mazing.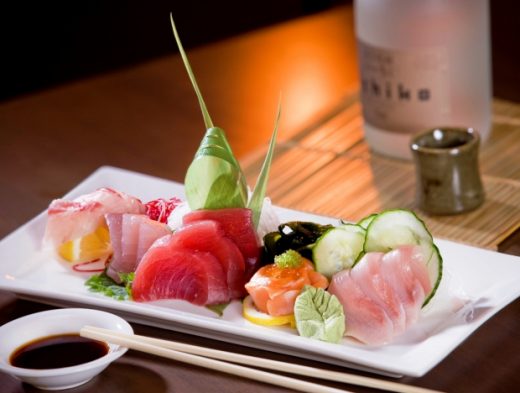 My husband and I first dined at Sushi Sake which is located near the center of the casino. Quality sushi in a casino? You bet! And only the best! Chef Thomas wowed us with Wagyu beef sashimi ~ a house specialty ~ and took the time to explain how they order, the best fish to look for when buying, and shared some of the best sashimi dishes we've ever had. Sushi Sake also features house specialty rolls like the Prime Rib roll with tempura shrimp and prime rib, Cilantro Yellowtail rolls, and Sushi Pizza.
Continuing on our dining adventure PALA-mazing experience number four of "expect the un-expected", my husband decided sushi was not enough and after gambling for a few hours in the casino, and it was his birthday, afterall, so he ordered a pizza delivered to our room. And so arrived a perfectly cooked, warm, New York-style pizza with housemade sauce. I only tasted one bite, trying to stay true to my #SOBikini mantra, but it was the best bite of pizza I have ever tasted. Really. Chef Camerota attributes it to his New Jersey upbringing and cooking for some of the most iconic people in the world ~ Frank Sinatra, Clint Eastwood, Don Rickles, Kenny Rogers, Tom Cruise, Robin Williams, Mr. T, and cooking with Wolfgang Puck. To meet Chef Camerota is to meet someone who truly loves to cook for people. "Give the people what they want," says Chef Camerota. "If you have a great steakhouse like we do here, why not offer sushi? Give the people what they want. It's as simple as that."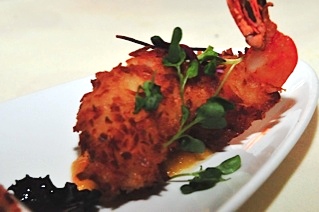 'Give the people what they want' seems to be the mantra of PALA Casino Spa and Resort in all aspects but with Chef Camerota at the helm, especially when it comes to dining. Authentic "street tacos" at Amigo's where you sit overlooking the Palomar Mountains sipping signature margaritas and savor guacamole made tableside to your liking. Or dine poolside in a casual, open-air setting, or transport yourself to Italy at Mama's Cucina Italiana, a Tony Bennett favorite dining spot, with well-known Italian Chef Luciano Cibelli. Originally from Milano, Italia, Chef Luciano and his team make fresh pasta daily and feature an antipasto bar, wines from an open cellar, and the freshest seafood and meats.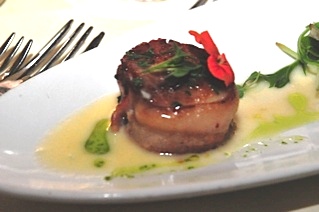 If these dining experiences are not enough to get your tastebuds flowing, enter PALA-mazing experience number five of "expect the un-expected". The Oak Room at PALA Casino.
To say Chef Robert Camerota's steakhouse is world-class does not begin to describe. Cuts of beef rarely, if ever, served anywhere else ~ the Tomahawk cut, Bone-in Filet Mignon ~ unmatched quality exquisitely prepared and served with the kindest, most discerning yet cheerful wait staff, The Oak Room is not to be missed. And yes, it's in this hidden gem called PALA Casino Spa Resort in the Palomar Valley in North San Diego. King Crab, fresh, decadent lobster, Wagyu beef cooked at your table over a cast iron stone, prawns, but if you want a simple cheeseburger, Chef Camerota aims to please and he will gladly make you a cheeseburger to order and then some. Someone in your dining party prefer sushi? Chef Camerota and his team will happily bring you some of the best sushi in the world. Ask and it is yours. At a casino? Yes, at the PALA Casino Spa and Resort.
PALA-mazing experience number six of "expect the un-expected", meeting the young, articulate, sincere CEO William "Bill" Bembenek. I have interviewed tennis great Venus Williams, Atlanta Falcon All-Pro Tony Gonzalez, Bon Appetit Editor-in-Chief Barbara Fairchild, rocker Gene Simmons, and many other celebrities, but never have I interviewed the CEO of a casino resort. Running a casino is a huge responsibility. I wasn't sure what to expect. I'd done my research and knew Bill Bembenek was from Chicago and started out at PALA as Director of Slot Operations. But what the printed pages cannot tell you is that here is a gentleman that geniunely cares about his team at PALA. The team of employees and the key part of that team… YOU, the guest. "We don't do a lot of advertising," explains Bill. "We hear consistently from our guests the experience is beyond expectation and that is the best advertising to have." The PALA Casino Spa and Resort is a resort experience that also features an award-winning casino and entertainment mecca and an unmatched dining experience throughout the resort.
PALA Casino Spa and Resort employs the highest quality people who are excited about providing you the most pleasurable dining, entertainment, gaming, and spa experience at an affordable rate. Prices for Deluxe accommodations begin at $129 per night ~ unheard of for this type of luxury experience!; Suites begin at $179 a night; Choices buffet begins at $21.24 per person (a steal of a deal). Reservations are recommended for The Oak Room, Mama's Cucina Italiana, and for Spa services.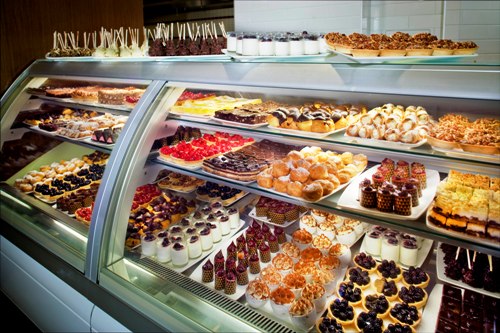 PALA-mazing upcoming events:
If you love Elvis like I do, don't miss the ROCKIN' ELVIS FEST, ULTIMATE ELVIS TRIBUTE CONTEST:
ROCKIN' ELVIS FEST, ULTIMATE ELVIS TRIBUTE CONTEST
Friday, March 15-Sunday, March 17
Three-day Rockin' Elvis Fest and Ultimate Elvis Tribute Contest returns to PALA Casino Spa and Resort's Infinity Showroom. Contestants compete for $4,000 in cash prizes and the winner receives an automatic entry into the International Ultimate Elvis Tribute Semi-Finals to be held during Elvis Week in August in Memphis, TN.
Tickets for all three days begin at $10. Details here: 877-946-7252 or StarTickets.com
For a complete schedule of events or to book your room reservation, visit PalaCasino.com
Other upcoming shows:
Amy Schumer
Saturday, March 23
Tickets begin at $36
StarTickets.com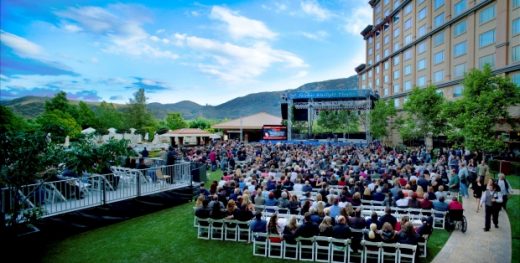 And, a not-to-miss event on the lawn at PALA:
Tony Bennett
Saturday, May 18
Palomar Starlight Theater
Tickets begin at $101
Call the PALA box office at: 877-946-7252 OR visit StarTickets.com
PALA Casino Spa Resort
11154 Highway 76
Pala, CA 92059
1-877-WIN-PALA (1-877-946-7252)
PALACasino.com
Article written by The Bikini Chef® for Bikini Lifestyles.  Special thanks to PALA Director of Communications, Jack Taylor, for his attention to detail in this PALA-mazing experience. Thank you, Jack. My husband and I are forever grateful to you and your team.
PALA Casino Spa and Resort is the featured guest on Bikini Lifestyles AM 790 KABC radio, Saturday, March 9, 2013. Hear from CEO Bill Bembenek, Executive Chef Robert Camerota, and Spa Director Zita Sims on the free podcast here:
WITH CHEF CAMEROTA IN THE OAK ROOM