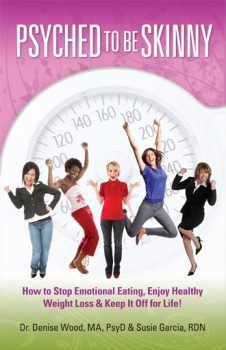 Book Review –
I don't often review books on weight loss but this one intrigued me not only because of the engaging authors, but because their book, Psyched To Be Skinny, is not really about weight loss – it's about eating with a purpose. The right kind of purpose.
Meet Dr. Denise Wood and Susie Garcia, RDN. Both accomplished women with a compassionate voice. From the very first words on the page, Denise, who holds a masters degree in psychology and a doctorate in clinical psychology, relatably writes, "we have all been there – depressed, anxiety-ridden, haunted by ghosts of the past and present;" and quickly calls our attention to how "all of us have been one of these eaters at some time in our lives." A wife, mom, business woman, and gorgeous pageant winner who is not in her 20's anymore, Denise shares that she has "finally learned to master [ her ] mind and body" and she helps her clients do the same. She's at ease being "Denise".


Enter Susie Garcia, a registered dietitian nutritionist who works with individuals, families, and businesses to get to the root of "multiple behavioral issues" that impact the nutrition choices they make. As she speaks about her practice, Susie openly shares that opening her practice was a "'start-over' step after finally leaving an abusive marriage." And though she was "able to maintain her weight and health and generally feel good about herself" during those trying years, I'll bet there was a time or two when she ate something as a result of a momentary "behavioral issue" hence why she was on board to write this book.
Haven't we all eaten because we felt lame, unloved, afraid at one time? That's what Psyched To Be Skinny is all about. It's a simple book with a straightforward plan. A friendly 131 page paperback, Psyched To Be Skinny provides a simple guide to the what, why, how, and what to do as it relates to the various types of behavioral eating. Let's get right down to it. In this book, you'll find ten chapters with titles like, The Depressed Eater, The Peer Pressure Eater, The Recently Dumped Eater, The Big-Boned Eater, and six more specific chapters. Targeted titles with targeted content.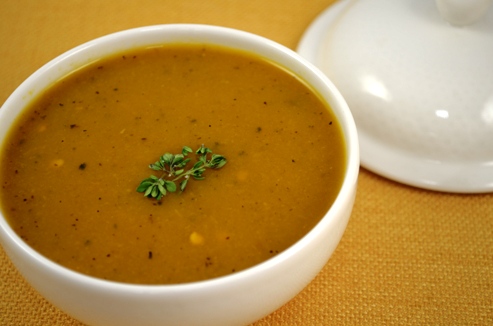 For example, feeling like a "The Recently Dumped Eater?" You'll find tips like "this too shall pass", "keep faith in yourself", followed by suggested cognitive exercises (specific journaling guidelines), solution-focused exercises, physical exercises, specific foods to eat, eating strategies, skinny tips and recipes throughout the book such as Greek Chicken Salad Pita Sandwich, Butternut Squash Soup, and Zucchini Lime Turkey Burger. And that's just one type of "eater"! Information like this abounds for each of the ten types of eaters. So, there are no excuses for over-eating or eating the wrong types of foods anymore. Denise and Susie have taken the tough part out of feeling lost by creating this simple, quick-read guidebook.
I'd love to meet these empowered women in person and I'm sure you would to. Check http://www.psychedtobeskinny.com for appearances and book signings. Hopefully, they'll be coming to your town soon. In the meantime, however, you can purchase their book at their website or at amazon.com
With gourmet wishes and flattering waistlines,
Your friend, The Bikini Chef®