Tips and Tricks to Curb Cravings and Second Helpings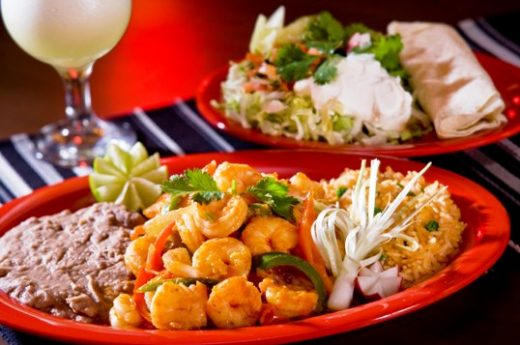 How often has this happened to you? It's 4 o'clock in the afternoon and you are craving a chocolate bar, a bag of salty potato chips, and you see the office box of doughnuts from this morning staring you in the face. Or, you are sitting at lunch or dinner with family and friends at home, at a restaurant, or at a party. You eat what begins as realistic portions of food and then boom, next thing you know you have another plate of food in front of you. You chow down on that plate, too, and then may even go back for more. Just one more bite of rice, one more bite of chicken, or one big bite of the Triple Chocolate Cake with Raspberry Sauce.
Grabbing the first food you see in the afternoon or continuing to eat at meals is easy to do, even when you are full. But the wrong snack foods and piles of food on your plate equates to extra inches on your waistline, thunder thighs, saggy buttocks, unsightly cellulite, uncomfortable feelings of bloatedness, feeling mentally depressed, and leads to health problems. Ugh, just writing this I feel fat, depressed, and quite frankly, alarmed. There is nothing positive that results from inhaling too much food.
The goal is to strike a balance between enjoying food without depriving yourself. Yes, it is possible. It is easier than you think!
Here are my tested proven tips and tricks to stave off food cravings and develop willpower to skip the second helpings at the dinner table and beyond:
*Drink water
Drinking water is the number one tip to prevent food cravings and suppress the urge to go back for seconds. On a recent trip to the Central Coast of California, I had the pleasure of touring a vineyard. During the tour, the vitner described the effects of water on the vines and the grapes. He displayed examples of hydrated grapes and those that lacked water.  The grapes that were hydrated appeared plump, round, and luscious while the grapes that were given the least water were dimpled, wrinkled, smaller, and aged in appearance – eventhough the grapes were grown at the same time.  Not only were the hydrated grapes more luscious in appearance, they were satiated.  Meaning, with proper hydration, they did not "crave" additional nourishment.  They were balanced.  
The same is true of our skin and our bodies.  Dehydrated skin has more dimples, wrinkles, and appears shriveled and more aged.  For a more youthful glow, drink water.   A properly hydrated body feels more satiated.  By drinking water throughout the day, your body will feel more nutrient balanced and will experience fewer cravings for sweets, late afternoon snacks, carbohydrates, and foods in general.  I think I'll have a glass right now. Will you join me? Cheers!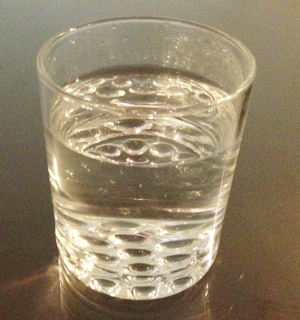 *Pause between bites and talk more at the dinner table
Switch from mindless eating to mindful eating. Anytime you sit down to eat – which should be every time – food should be an enjoyable experience. This does not mean that every meal has to take 3 hours to eat as in Tuscany, but food should be savored, appreciated, and a pleasurable experience. Resist the urge to chow down the whole plate of food in 5 minutes. Talk to your fellow diners. If you are dining alone, bring a book to read, read the paper, use this time as an opportunity to write down your thoughts about whatever is on your mind. Take a couple of deep breaths before starting your dinner to relax and slow down. Put your fork and knife down between bites. Sip a glass of water or red wine or both. Really think about your dining experience instead of today's meeting. You will begin to see food in an entirely different way AND you will crave foods less. Why? Because your mind and your stomach will finally have a chance to connect and communicate. Slow down.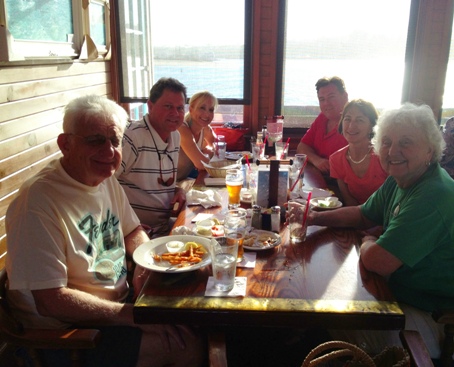 *Eat an apple
For years I have eaten an apple nearly every single day. Apples are my favorite snack and when someone asks me "what should I eat" in the late afternoon, I commonly advise them to eat an apple. I usually eat an apple midday and am not hungry before dinnertime. There are reasons for this.
Apples are naturally sweet, thereby satisfying any sugar craving, and they provide a nice, crisp crunch which satiates the palate with texture followed by delicious natural juices that emanate from the apple. Yet, the best element of all is that apples are filled with phytonutrients that help regulate blood sugar. When your blood sugar is balanced, you naturally experience fewer cravings. Remember the satiated grapes from above? Just like those grapes, a satiated body has no cravings.
Another benefit of snacking on apples is that they are filled with natural fiber. The average apple contains over 17 percent of fiber. Fiber in the diet helps give you that "full" feeling for a longer period of time, but that is not all. Apples contain the fat-soluble fiber called pectin. The pectin in apples interacts with the other phytonutrients and provides a blood fat lowering effect. In a recent study, adults who ate a medium-sized apple 15 minutes before a meal decreased their caloric intake during the meal by an average of 15%. Hence the reason why I suggest eating an apple before you attend a party. The net caloric impact will be much lower than if you had not eaten an apple beforehand – presumably if you don't hover over the hors d'oeuvres table all night. See final tip on portion control.
*Eat a handful of raw almonds
Raw almonds, as compared to roasted, salted almonds and sugar coated sweet almonds, are a wonder snack food. If you are feeling hungry in the afternoon, snack on a small handful of raw almonds, about 6 to 12 of them, drink a glass of water, and wait 10 minutes. Your craving will subside. Plus, your body will benefit from a plethora of nutrients.
If you follow me on twitter @thebikinichef and listen to my weekly radio show, The Bikini Lifestyles Show on Talk Radio 790 KABC, have heard me say this many times – "focus on the TYPES of calories consumed, not the number of calories". A study cited on whfoods.com from the International Journal of Obesity and Related Metabolic Disorders, found that overweight adults who practiced an almond-enriched low calorie diet shed pounds more effectively than those who practiced a low calorie diet that was high in complex carbohydrates. Those adults on the almond-enriched diet experienced greater reductions in weight (18% vs 11%), waistlines (14% vs 9%), body fat (30% vs 20%), and blood pressure (11% vs 0%). And those eating almonds had a 62% greater reduction in their BMI (body mass index).
Almonds promote heart health, help prevent diabetes, help regulate blood sugar, among many other health benefits, and are a great source of protein – see next tip.
Read the full article about almonds here: whfoods.com But, the bottom line on almonds – a healthy nut that tastes really good and goes a long way in helping you achieve a #SOBikini healthy body. Still want those bag of chips from the vending machine in the afternoon? Give almonds a try for one week and write down how you feel. I'm betting almonds will soon become your go-to snack of the day. Besides the apple, of course.
*Eat protein, some form of protein, with every meal and snack
Protein is mega-powerful. When living, or changing your lifestyle to live, a #SOBikini healthy lifestyle, protein is essential. It helps build and repair muscle tissue which is the caveat for burning fat. Without efficient muscles, the body has a hard time breaking down fats. And, without the ability to breakdown fat, the body has a slower metabolism, slow digestion, slow everything. The only thing that grows fast is your waistline. Ick!
So, what are proteins anyway? There are obvious proteins like chicken, fish, turkey, pork, beef, lamb and so on. But, other foods contain protein, too. Protein abounds in beans such as black beans, fava beans, and dark red kidney beans. Nuts have protein, too – almonds, walnuts, and brazil nuts are especially good. Dark leafy greens like spinach and kale are good sources of protein as are greek yogurt and eggs and are you ready for it… one of my favorite protein sources of all… Quinoa!
*Practice portion control
The proven tips above do no good whatsoever if you are constantly stuffing your face with lots of food. Our bodies need an opportunity to breakdown the foods we eat whether it is a meal or a snack. Food is fuel for your body, remember, not a mindless free-for-all for the sake of eating. When you eat fresh foods that are thoughtfully prepared with flavorful herbs and spices in appropriate portions and enjoy a fresh, healthy, portioned snack in between, your body will really appreciate it and will respond with efficiency – translation, wearing those hip, stylish jeans you've been wanting to wear for years.
The average serving size should be about 1/2 cup. The size of your fist. The size of a deck of cards. No larger than the palm of your hand. The palm of your hand is a good rule of thumb to go by for portion control because generally speaking, a person with a larger palm can use a few more calories than a person with a smaller palm. The 1/2 cup measure is effective and is a good general guideline to portion control. Guess what else is? Common sense! You know when you have piles of food on your plate that it is too much food! Be logical. Remember, the size of your stomach is about the size of your fist so a 1/2 cup serving of fresh vegetables, 1/2 cup of protein, 1/2 cup of fruit or whole grains is going to be plenty to fill you up. And, it is better to eat smaller meals followed by a healthy snack in a couple of hours than it is to eat a huge meal followed by a nap on the couch. Smaller meals and healthy snacks promote an efficient, energized body. Unhealthy snacks and large meals will lead to feeling lethargic, uncomfortable, and can downright put you in a bad mood.
Follow these simple, easy tips and tricks and you will definitely be passing on second helpings and I guarantee you will have fewer food cravings.
Next #SOBikini Lifestyle tip, Red Carpet Ready in celebration of the upcoming Primetime Emmy Awards.
Source:
Apples – The World's Healthiest Foods http://www.whfoods.com/genpage.php?dbid=15&tname=foodspice
Almonds – The World's Healthiest Foods http://www.whfoods.com/genpage.php?tname=foodspice&dbid=20