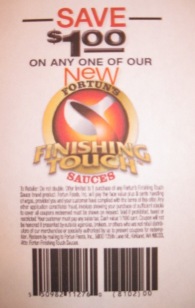 First Place Winner:  Win One-night stay at Indian Wells Resort, Palm Desert,  Dinner for Two at La Quinta's Award Winning Restaurant, Desert Sage, and an 8-pack variety pack of your choice of Fortun Finishing Touch Sacues
Second Place Winner:  Win 8-pack variety pack of your choice of Fortun Finishing Touch Sauces
Each of the two winners will have their winning recipe featured on
www.fortunfoods.com and www.thebikinichef.com
FORTUN FINISHING TOUCH SAUCE    RECIPE CONTEST
 BEGINS:  Monday, August 8, 2011
CONTEST ENDS:  Friday, September 30, 2011 (5pm, Pacific Standard Time)
Print this coupon, Purchase the Fortun Finishing Touch Sauce of your choice, and submit your simply delicious, creative recipe emailed to susan@thebikinichef.com or faxed to: 949-545-2133  
ATTN:  The Bikini Chef® no later than Friday, September 30, 2011, 5pm Pacific Standard Time.
RECIPE SUBMISSIONS MUST INCLUDE:  Your name, mailing address, phone number and email address.  Recipes must be typed or neatly handwritten in blue or black ink.  Incomplete submissions will not be counted.
Top 10 recipes will be tested by Fortun Foods and The Bikini Chef® and will be judged equally on flavor, ease of use, and creativity.   Winners will be announced on Friday, October 28, 2011.  Entries will not be returned and recipe submission becomes the property of Fortun Foods.  Recipe author/s understands there will be no monetary compensation for recipe provided except to the winners as designated above.  Winning entries agree to have their recipe posted on both www.fortunfoods.com and www.thebikinichef.com.
Print coupon here for Ralphs Fresh Fare in Los Angeles and Orange County, CA or a participating grocery store near you.  Print out coupon here, purchase your favorite Fortun Sauce, create a simply delicious recipe and submit with proper guidelines as outlined above to susan@thebikinichef.com or via fax to:  949-545-2133!