Susan Bodack is the Director of Social Media Marketing at InStyleSwimwear.com, a Philadelphia-based online retailer specializing in fashion-forward designer swimwear, cover-ups and accessories.  Follow them on Twitter and Instagram at @InStyleSwimwear!
In addition to choosing a swimsuit that complements your figure, choosing the right swimsuit cover-ups and accessories can really make or break your poolside look.  Whether you're hanging out at home, a friend's backyard pool party or heading to Vegas for a weekend of poolside partying, you want to look the part… and we'll show you how!
Cool and Casual
If you're hosting or attending a pool party, keep it cool and casual.  Choose easy-to-wear swimsuit cover-ups like classic v-neck tunics, short little jumpers or even a cute pair of shorts and top; comfort is key for low-key get-togethers!  In terms of accessories, think flip-flops and a fedora.  Keep the jewelry to a minimum and don't forget your sunnies! Find the adorable jumper (pictured below) here: http://www.instyleswimwear.com/seafolly-swimwear/lemon-drop
Day to Night
For parties that start during the day and go into the night, you want swimsuit cover-ups and accessories that will help transition your look.  Think maxi dresses and maxi skirts that can be dressed up or dressed down.  Rock a pair of wedges to dress it up or a pair of flip-flops to dress it down.  Add some chunky beaded bracelets or a bold, statement necklace to make your look pop!  Always bring a light sweater or wrap for that cool nighttime breeze. Find the fabulous skirt (photo below) here: http://www.instyleswimwear.com/l-space-swimwear/seville-skirt
Cabana-Chic
But if you're heading to Vegas, Miami or any beach-chic town under the sun, you want to choose swimsuit cover-ups and accessories that scream cabana-chic.  Think breezy kaftans and ponchos with billowy sleeves or a flirty little sarong with a fun beachy vibe.  Add some wedges, a dramatic floppy hat and some bangles, and you'll have jaws dropping to the floor! The perfect poncho (pictured below) here: http://www.instyleswimwear.com/vitamin-a-swimwear/kalahari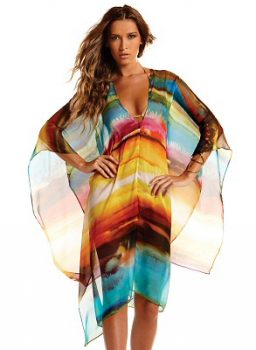 Regardless of where you soak up the sun this season, opt for swimsuit cover-ups and accessories that complement your bikini and fit with your surroundings.  And don't forget the most important accessory of all–sunscreen!