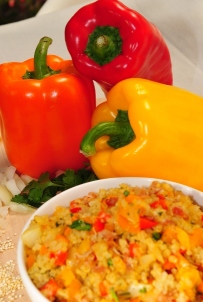 Boring, bland, bran flakes is what usually comes to mind when I hear the word "fiber". Perhaps it does for you, too.Fiber is essential to good health!  My father used to get his fiber by chewing on a handful of bran flakes while attempting to wash it down with a glass of water.  Talk about getting your fill of fiber. Although I tried it for years, the thought of ingesting a handful of what looks like fish food for the rest of my life was just not that appealing.  Thankfully there are plenty of other delicious ways to add fiber to your daily food intake. First, let's take a look at why fiber is so important to our bodies.
One of my favorite ways to look at the human body is to compare it on some level to a car.  Often, we pay closer attention to the type of gas and oil we put into our car to make it run efficiently than we do to the fuel, or foods, we put into our body.  Your car gets clogged with dirt and grime. Therefore, you clean the oil filters, change the oil, and pay attention to the type of gas your car needs.  Your body is somewhat the same way.  Of course we don't change our filters, but we do need to clean the dirt and grime, or fat, out of our system on a regular basis and help the foods we eat process more efficiently. One of the best ways to have a fuel efficient body is to make sure we have enough fiber floating through our cells and arteries each day. Fiber acts as a natural broom sweeping out fat and toxins.
On average, we should consume 30 grams of fiber each day, slightly more for men, slightly less for women. The exact amount of fiber needed varies by age so check with your doctor if you have a specific question on the recommended amount for you.  A diet with adequate fiber intake is known to have an improved digestive tract; fiber helps reduce the risk of cancer, heart disease, helps control blood sugar levels which helps control weight gain and loss, and managing diabetes. Another way fiber helps with weight control is because we tend to chew fibrous foods longer. And, high fiber foods tend to be lower in calories, they keep us feeling full longer, and fiber is not digested by the body so therefore it's primary purpose is to clean out our "pipes", so to speak.
Here are a few ways to add fiber to your diet in a flavorful way:
*Try a new grain like QUINOA Quinoa is actually a seed, not a grain, but it cooks similar to the way rice does.  Quinoa is a super source of fiber with an added bonus of providing complete protein.
*Add a low-sugar bran cereal to your yogurt in the morning.  If you need a little sweetness, add a 1/2 tablespoon of natural honey.
*Making soup at home? Salad? Chop some fresh vegetables like tomatoes, broccoli, zucchini, carrots and toss them in.  One of my favorite flavor enhancers:  lemon zest! I add it to everything and as a bonus it adds flavor and fiber, too!
*Make your snacks count.  If you have to eat crackers, enjoy whole grain ones like Ak-Mak.  My go-to-snack of choice:  high-fiber apples.  Apples provide a crisp, crunch that satisfies the tooth, natural sweetness to satisfy your sweet tooth, and lots of fiber to fill you up!  Not a fan of apples?  Throw back a few almonds.  Filled with good fats, fiber and a little bit of protein, almonds are a terrific mid-afternoon pick-me-up.  Other fruits like peaches are rich in fiber and leave the skin on for maximum fiber appeal.
*Remember those salads? Add a 1/4 cup of black beans or lentils.  Beans are one of the best foods around for fiber with the added benefit of protein.
*Stay away from canned foods and processed foods whenever possible.  The processing dilutes the fiber content and lots of canned foods contain sugar, sodium… they are just not as good for you as fresh.  Make every bite count so just stay away from canned.  Can the can, let's say.
*Add fresh leafy herbs whenever possible.  I use fresh cilantro, Italian flat leaf parsley, basil, dill, sage whenever possible. You don't  need an excuse to use fresh herbs; they go with everything!  Add them to vinaigrettes, fruit salads taste even more delicious with a little fresh mint leaves, add some dill to your egg or potato salad.  There are so many ways to incorporate fresh herbs into your foods.  Add them to every dish and then it will become a healthy habit.
Photo shown:  Quinoa with Fresh Red Bell Peppers, Pancetta, and Fresh Mint Leaves
Make every day a healthy "bikini" day…  sending you gourmet wishes and flattering waistlines! 
Your friend in health, The Bikini Chef®
Catch The Bikini Chef® on Bikini Lifestyles "Wine Dine and Workout" on AM 790 KABC radio in Los Angeles Saturday nights, 7pm PT or stream LIVE online at http://www.kabc.com Visit: http://www.bikinilifestyles.com Check your local TV listings for Bikini Lifestyles "Wine Dine and Workout" airings in your town!
The Complete Idiot's Guide Quinoa Cookbook available for pre-order on Amazon.com: http://www.amazon.com/Complete-Idiots-Guide-Quinoa-Cookbook/dp/1615641939/ref=sr_1_1?ie=UTF8&qid=1337916843&sr=8-1
In stores: July 3rd, 2012
FortunFoods.com