What better way to improve your health and your golf game than at Greg Norman Golf Academy this Summer. Training, discipline, ethics, and of course, some of the best golf technique training in the world is what students will find at the Greg Norman Golf Academy during Summer Camps…
The Greg Norman Golf Academy is now enrolling for Summer 2015 programs.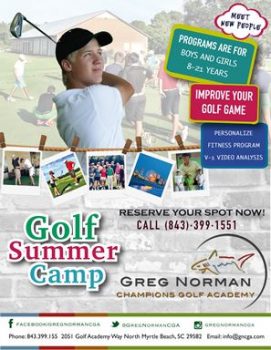 Here's what you'll learn and enjoy at Greg Norman Golf Academy:
GNCGA's Programs:
Summer Camp Program:
Want to improve your golf game and have fun this summer? GNCGA's summer camp is for you! GNCGA offers weekly and multi-week training camps for boys and girls ages 8-21. Summer camp is great because it gives one the same experience as our full-time high school and post-graduate students. Summer camp begins in May!
Full Time Program:
Focus on your education and improve your golf skills all in 10 months! The full time program starts in August and ends in May. It provides the most talented junior golfers in the U.S. and abroad with an instruction program and training environment. We partner with K12 that is the leader in online learning and also partner with Lowcountry Prep School that is an excellent academic experience.
Post-Graduate Program:
This program was designed to prepare young players, ages 17-21, for collegiate golf and beyond. It gives one and extra year to improve their golf game in order to compete effectively on the collegiate level without losing a year of eligibility. This program starts in August and ends in May.
Adult Golf Program:
If your chance to play professionally has passed you by, doesn't mean you can't be a professional here at GNCGA! We appreciate your desire to increase your enjoyment of the game! GNCGA's adult program will include 1, 2, and 3-day golf schools and all aspects of the game will be offered.
A day at GNCGA Summer Camp, Ages 8-21:
7:30 AM–8:30 AM
Cleaning, Dressing and Breakfast
9:00 AM-9:45 AM
Stretching at the gym with the fitness instructor
9:45 AM-11:45 AM
Golf Instruction
12:45 PM- 5:00 PM
Golf play, putting and chipping competitions
Also, you can use the following information anywhere:
#attacklife and #gncga
Stay Connected With Us!
Twitter:GregNormanCGA
Instagram:GREGNORMANCGA