Why Losing Weight Is Not A Good Goal To Have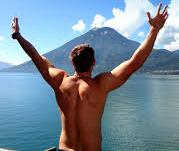 We've all heard it before from a thousand people, a thousand different times – "I want to lose weight!" While intentions are good and noble, setting a goal "to lose weight" is really not the best goal to have. Often, by making the ultimate goal solely about pounds on a scale, we set ourselves up for failure. Without real, focused, intentional change, those stubborn pounds will keep hanging around sabotaging your mindset. So much so that stepping on the scale everyday will become disappointing, discouraging, deflating, and an easy excuse to give up when the pounds are not falling away.
Instead of constantly thinking about, even obsessing over pounds, transfer your mindset to WHY you want to lose weight. Attach personal meaning to your weight loss and the whole lifestyle change will be come real, positive, and motivational to you and to others.
Try these goals on for size:
*I want to lose weight so my heart does not have to work so hard.
*I want to breathe easier.
*I want to sleep better at night so I have more energy to perform at work.
*I want to feel sexy when I am intimate with my husband, wife or significant other.
*I want to join my friends when I get invited on a day hike in the mountains and a picnic.
*I want to be able to play baseball comfortably with my kids.
*I want to lower my blood pressure and cholesterol so that I can experience adventurous travel with my husband, wife, significant other or friends.
*I want to alleviate my back pain so I can feel more comfortable and enjoy it more when I'm tinkering with my car in the garage or working in the garden.
*I want to have more clear, refreshed looking skin – especially in those family photos.
*I want to look and feel younger, more vibrant so I can play golf, waterski, play in the backyard with my dogs.
*I want to feel better in my clothes the way I used to because it makes me feel more confident.
*I travel a lot and want to feel more comfortable on the plane.
There are as many positive outcomes weight loss brings as there are stars in the sky. Focus on the WHY you want to lose weight. Keep that "why" at the forefront of your mind. Write down short term goals and track them daily. Tracking your daily achievements can be in a journal or something as simple as writing them down each morning on a piece of paper and attaching it to your refrigerator front and center.
When you reach your short term goals, set the next level of goals. Track them. Share your experience with people that are excited and happy for you. Incorporate exercise into your daily habits. Exercise does not have to be 1 or 2 hours at the gym. A brisk walk or jog. A swim in the pool at the local community center. A yoga class. Do something to move your body every single day. Make your "rest" days active rest days. This will help you stay on track. Feeling discouraged? Re-focus on your "Why". "Why am I doing this? Why did I want to lose weight again? Oh yeah, because I want to run the bases faster in my softball or baseball game this year. Wait til the league sees how fast I can go now!"
Make your weight loss personal… you'll be surprised how self-inspired you become which is positively inspiring to others.
Need help getting started – take my FREE 30-Day Bikini Body Challenge