Stylish Beach Cover Ups from Barbara Gerwit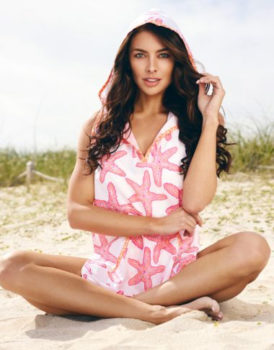 Artisan Print Cotton Lawn Sleeveless Tunic Style: Glow in this pink starfish print perfect for a beach getaway! $70.00
From beach cover ups to resort wear dresses, tops and tunics, Barbara began designing fashions at the early age of 12. Her mother gave her a sewing machine for her birthday and Barbara has been sewing ever since. Her latest designs for summer include stylish and comfortable tunics that give you confidence and comfort at the beach.
Embroidered Jacquard Silky Cotton Tunic Style: This white tunic features a rope pattern that looks great paired with a big floppy hat! $114.00-120.00
Casual printed knit dresses and tops have now been added to her growing high end, quality resort collection. Her clothing is worn from casual daytime shopping on into those balmy tropical nights in fine resort hotels, restaurants, and cruise ships throughout the world. Barbara selects light and airy fabrics made of brightly colored cotton lawn, cotton Swiss voile, and laundered linen that has been constructed for easy care and washability.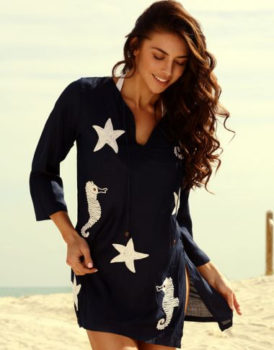 Embroidered Jacquard Silky Cotton Tunic Style: This starfish and seahorse tunic really soaks up the summer spirit. $123.00-$129.00
The BARBARA GERWIT collection is currently being sold in many of the finest stores in the United States such as C'Orrico in Palm Beach, Florida, and Joanne's in Houston, Texas and also throughout Europe. The entire collection is also available online at BarbaraGerwit.com.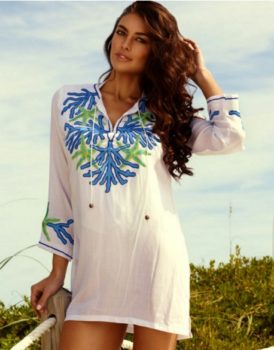 Embroidered Jacquard Silky Cotton Tunic Style: This blue and green coral tunic is super flattering, perfect to put on for lunch with the girls by the pool! $121.00-127.00
Shop online at BARBARAGERWIT.com