Food Healing Kitchen Makeover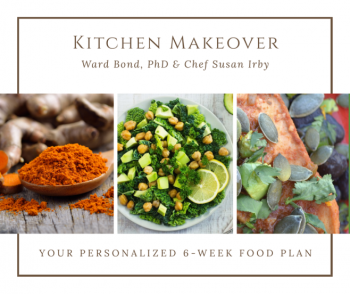 Transform your health through a Kitchen Makeover!
Do you suffer from nagging or chronic health conditions that prevent you from living life to the fullest? Have you been wanting to learn how to cook healthier but don't know where to begin or what to buy?
Chef Susan Irby and Dr. Ward Bond bring you the Food Healing Kitchen Makeover!
Complete the 19-page health questionnaire and receive a preliminary evaluation from Dr. Bond and Chef Irby. THEN, a 6-Week Customized Food Healing Nutrition Plan will be created for you that slowly re-invents your kitchen! By the end of the 6-Week program, your pantry and refrigerator will be filled with foods and ingredients that maximize good health potential and customized according to your health needs.
Food Healing Kitchen Makeover includes:
*19-page questionnaire and evaluation by Dr. Bond and Chef Irby
*6-Week custom kitchen makeover strategy
*Starter pantry list
*At least 2 recipes weekly
*Accountability photos that you send to Chef Susan
*Weekly check-ins
*Daily journaling and meditation
COST: $374.99
**For those who have already completed the Food Healing Nutrition Program, the Kitchen Makeover program is $324.99!