13 Real Weight-Loss Foods

You've heard about fat-busting foods, foods that burn belly fat, bikini friendly foods… the bottom line is most of us want to lose weight. Dropping excess pounds leads to a more positive, healthy attitude, especially when combined with exercise. Studies show that even moderate exercise, just 30 minutes of focused movement three to four times a week, improves mood, blood flow and helps reduce the risk for cardiovascular disease and improves mobility.  But what about the foods we eat?  Can certain foods really help us lose weight?  The answer is  yes, they can.  But which foods are the best foods when it comes to losing weight.
Eventhough some of the hip, hot cool ingredients like chia seeds, controversial coconut, quinoa, and taro root chips all boost metabolism and are packed with nutrients, there are 13 "real" foods – foods you have probably been eating for years – that help stave off cravings, combat hunger, help curb sugar cravings, and kick start your metabolism. These not-so-wonder wonder foods are available at your supermarket right before your eyes.
The 13 Real Weight-Loss Foods:
1. Avocado – Eventhough avocados are on the high side of calories with about 100 calories per 1/4 avocado, more than two-thirds of the calories comfe from monounsaturated oleic acid which is used by the body as a slow burning energy source. These fats have also been linked to better control of blood sugar levels. The health benefits of avocado are extensive including reducing levels of the so-called "bad" cholesterol while improving levels of satiety. Want to lose weight? Start your morning with a slice or two of avocado.


2. Eggs – Studies show that, due to their protein content, eating eggs for breakfast helps curb cravings and sustain a feeling of fullness longer. In a study of 30 overweight or obese women, those who ate eggs in the morning consumed an average of 400+ calories less per day than those who ate bagels. Eggs are also good sources of choline which has been known to improve memory and muscle function.
3. Beans – The high fiber in beans, their protein content, and other digestive properties have been linked to keeping blood sugar levels more stable thereby staving off food cravings. They keep you feeling fuller longer and are also known to help lower cholesterol.
4. Grapefruit – While it is true that grapefruit can interfere with some medications, if you are not taking medications, eating half a grapefruit before a meal can help reduce insulin levels and help convert calories into energy sources used by the body.
5. Salad – Salads slathered and lathered with high fat creamy dressings don't qualify, but in general, studies show that people who eat one to two cups of salad with a light dressing such as a simple balsamic vinaigrette eat less and consume fewer calories than those who don't.


6. Pears – Studies show pears contain more fiber than apples and they both contain pectin which helps decrease blood-sugar levels which, again, helps prevent food cravings.
7. Grapeseed oil – Oils such as grapeseed and olive oil contain fat-burning properties that help you burn calories. Plus, their light, delicious flavor is the perfect compliment to homemade salad dressings and for lightly drizzling on vegetables and lean proteins such as chicken and fish.
8. Cinnamon – Another super-ingredient to help avoid late afternoon food cravings. Cinnamon contains properties that help control spikes in insulin, and help to lower cholesterol and trigliceryide levels in those with type 2 diabetes.
9. Walnuts and Almonds – Filled with the healthy fats that lubricate our bodies and help give us glowing skin and hair, these nuts are tops when it comes to curbing cravings and helping you feel fuller, longer. Helping to increase metabolism, these nuts have been linked to reducing the risk for heart disease.
10. Soup – Not all soups apply, but studies show that protein rich soups such as a simple chicken soup can fill you up and alleviate feelings of hunger and cravings.
11. Green Tea – According to a Japanese study, green tea contains antioxidants called catechins which are linked to increased metabolism, fat burn and as a bonus, can help to lower cholesterol.
12. Chili Peppers – Widely touted for its metabolism boosting properties, red chili peppers contain capsaicin which is linked to suppressing appetite and promoting fat burn.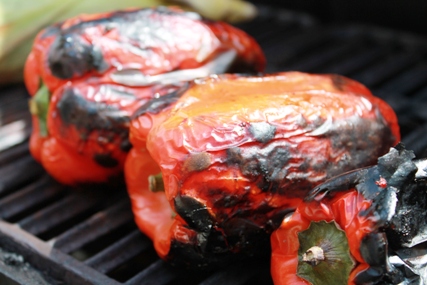 13. Vinegar – Studies show that the acetic acid in vinegar aids in keeping the tummy satiated for a longer period of time. As well, vinegar has metabolism boosting properties that help burn fat.
Want to drop unwanted pounds and rock a bikini by the end of summer? Even if you don't want to wear a bikini, lose the weight, feel better and more energized by adding these simple foods to your dishes.
Sources:
Rochester Centre for Obesity in America
Nutrition and Metabolic Research Center at Scripps Clinic
Penn State University
US Department of Agriculture
USDA
Purdue University