Traditional Apple Pie
Make Ahead Tip: Prepare the crust (Step 1), wrap tightly and refrigerate for up to 2 days or freeze for up to 6 months. | Equipment: 9 1/2-inch deep-dish pie pan 
Must have whipped cream? Make homemade whipped cream instead of using pre-made store-bought versions that contain preservatives and excess sugar. To whip cream at home, place 1 cup of chilled whipping cream in mixing bowl, begin to beat using a hand mixer at medium-high speed. Add 1/4 cup powdered sugar while whipping. Whip until stiff peaks form. Pay attention not to over-whip as the cream will separate and you will have to start over. Variations: add 1 tablespoon of lemon zest or 1 tablespoon of Grand Marnier.
Healthy Apple Pie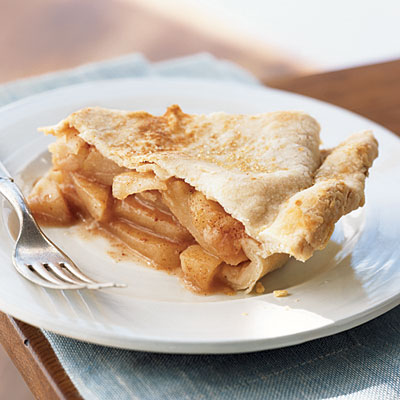 Recipe type: Yield: 10 Prep time: Cook time: Total time:

---
Fresh apples are sauteed with sugar and spices and baked into a whole wheat crust
Ingredients:
1 1/4 cups whole-wheat pastry flour, (see Ingredient Note)

1 1/4 cups all-purpose flour

2 tablespoons granulated sugar

1/2 teaspoon salt

4 tablespoons cold unsalted butter

1/4 cup reduced-fat sour cream

3 tablespoons canola oil

4 tablespoons ice water

FILLING

6 cups thinly sliced peeled MacIntosh apples, (about 2 pounds)

6 cups thinly sliced peeled Granny Smith apples, (about 2 pounds)

2/3 cup packed light brown sugar

1 tablespoon lemon juice

1 1/4 teaspoons ground cinnamon, divided

1/8 teaspoon ground nutmeg

Pinch of ground allspice

Pinch of salt

2 tablespoons all-purpose flour

1 teaspoon granulated sugar

1 large egg white, lightly beaten, for brushing
Directions:
Whisk whole-wheat flour, 1 1/4 cups all-purpose flour, 2 tablespoons sugar and 1/2 tsp salt in a large bowl.
Cut butter and rub the butter into the flour mixture with your fingers.
Add sour cream and oil.
Toss with a fork to combine with the dry ingredients.
Sprinkle water over the mixture.
Toss with a fork until evenly moist.
Knead the dough with your hands in the bowl a few times then the mixture will still be a little crumbly.
Turn out onto a clean surface and knead a few more times, until the dough just holds together.
Divide the dough in half and shape into 5-inch-wide disks.
Wrap the dough in plastic and refrigerate for at least 1 hour; can be made ahead of time.
FILLING:
Combine apples, brown sugar, lemon juice, 1 teaspoon cinnamon, nutmeg, allspice and pinch of salt in a large bowl.
Reserving 4 cups, transfer the rest of the apple mixture to a Dutch oven.
Cook over medium heat, stirring, until the apples are tender and beginning to break down, about 10 minutes.
Remove from the heat, stir in the reserved apples and 2 tablespoons flour; let cool for about 30 minutes.
Preheat oven to 425.
Remove the dough from the refrigerator; let stand for 5 minutes to warm slightly.
Roll one portion between sheets of parchment into a 13-inch circle.
Peel off the top sheet and invert the dough into a 9 1/2-inch deep-dish pie pan.
Peel off the remaining paper.
Scrape the filling into the crust.
Roll the remaining portion of dough between sheets of parchment paper into another 13-inch circle.
Peel off the top sheet of paper and invert the dough onto the fruit.
Peel off the remaining paper.
Trim the crust so it overhangs evenly.
Tuck the top crust under the bottom crust, sealing the two together and making a plump edge.
Flute the edge with your fingers.
Combine 1 teaspoon granulated sugar and the remaining 1/4 teaspoon cinnamon in a small bowl.
Brush the crust with egg white and sprinkle with the cinnamon-sugar.
Cut 6 steam vents in the top crust.
Bake the pie on the bottom rack for 20 minutes.
Reduce the oven temperature to 375° and continue baking until the crust is golden brown and the filling is bubbling, 25 to 35 minutes more.
Let cool on a wire rack for about 1 1/2 hours before serving.
Published on by Susan Irby