Recipe Type: Appetizer
Prep time: 5 mins
Cook time: 5 mins
Total time: 10 mins
Serves: 4
Jumbo prawns are sexy! Especially when they are grilled to perfection and dolloped with naturally low fat, low calorie, preservative-free Fortun Finishing Touch Sauces, one of my favorites, Santa Fe Verde Sauce. Prawns are low cal, low fat, high flavor. Super easy to cook, be careful not to overcook as they get "tough". Other Fortun Finishing Touch Sauces that taste great with prawns: Mediterranean Sauce, Rajun Cajun, Spanish Romesco with Saffron.
12 jumbo Tiger prawns, peeled and deveined
1 tablespoon olive oil
1 container *Fortun Foods Santa Fe Verde Sauce
In medium mixing bowl, toss together prawns and olive oil. Heat grill or cast iron grill pan over medium heat. Add prawns and grill until just pink, about 1 1/2 minutes per side.

In a small saucepan, add enough water to fill 3/4 to top. Bring to a simmer over medium-high heat. Add Fortun Finishing Sauce packet (leave the sauce in the bag). Heat for about 1 minute. Tear packet open and pour over grilled prawns. Sauce can also be used as a dipping sauce for fresh vegetables, mix with cooked rice, or pour over grilled chicken, pork, and fish.

*If you can't find Fortun Finishing Touch Sauces at your store, ask the meat or seafood department to carry them. OR, purchase at FortunFoods.com Enter Promo code "BIKINI" for FREE shipping on online orders
Catch The Bikini Chef on Bikini Lifestyles "Wine Dine and Workout" on AM 790 KABC radio in Los Angeles Saturday nights, 7pm PT or stream LIVE online at http://www.kabc.com Visit: http://www.bikinilifestyles.com Check your local TV listings for Bikini Lifestyles "Wine Dine and Workout" airings in your town!
The Complete Idiot's Guide Quinoa Cookbook available for pre-order on Amazon.com: http://www.amazon.com/Complete-Idiots-Guide-Quinoa-Cookbook/dp/1615641939/ref=sr_1_1?ie=UTF8&qid=1337916843&sr=8-1
In stores: July 3rd, 2012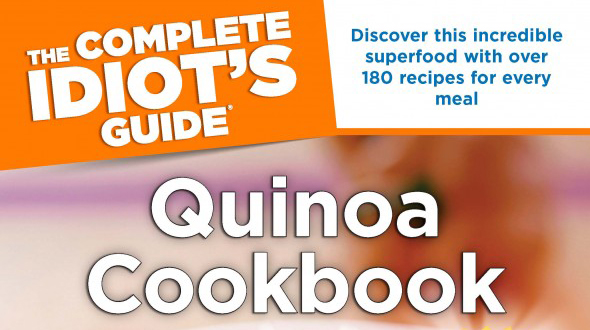 Other books by The Bikini Chef:
Substitute Yourself Skinny
Boost Your Metabolism
$7 Healthy Meals
$7 Quick and Easy Meals
$7 Pressure Cooker Meals
Cooking With Susan : Southern Family Favorites
Grilled Prawns with Santa Fe Verde Sauce
Recipe type: Yield: 4 Prep time: Cook time: Total time:

---
Catch The Bikini Chef on Bikini Lifestyles "Wine Dine and Workout" on AM 790 KABC radio in Los Angeles Saturday nights, 7pm PT or stream LIVE online at KABC.com Visit Bikini Lifestyles.com
Ingredients:
Directions:
Published on by Susan Irby