Lemon Pepper Chicken with Quinoa is served with steamed broccoli. A simply delicious and highly nutritious meal the whole family will love. Quinoa is pre-cooked and placed in an oven-proof baking dish with chicken, onion, fresh thyme leaves, paprika and dry mustard. This easy-to-prepare dinner is ideal for single mom's, mom's on-the-go, working moms… mid-week meals, weekends, and Sunday night suppers. For singles and active lifestyles, prepare this dish ahead and eat for after workout protein, nutrient-rich meals during the week.
Nutrition:
Calories: 380
Fat: 10.6g
Saturated fat: 2.6g
Cholesterol: 101mg
Sodium: 213mg
Potassium: 538mg
Carbohydrates: 30.7g
Fiber: 8.1g
Sugars: 1.0g
Protein: 40.7g
In this calorie-slashing collection, The Bikini Chef® Susan Irby offers recipes for switching up ingredients that keep calories to a minimum. Complete with serving-size suggestions and "Skinny Secret" shortcuts to trim calories in little ways, here you'll get expertly crafted recipes that include offerings for every meal of the day!
Books by The Bikini Chef®:

The Bikini Chef® Diet
Substitute Yourself Skinny
Boost Your Metabolism
The Complete Idiot's Guide Quinoa Cookbook
The Clean Separation
$7 Healthy Meals
$7 Quick and Easy Meals
$7 Pressure Cooker Meals
Cooking With Susan : Southern Family Favorites
Lemon Pepper Chicken with Quinoa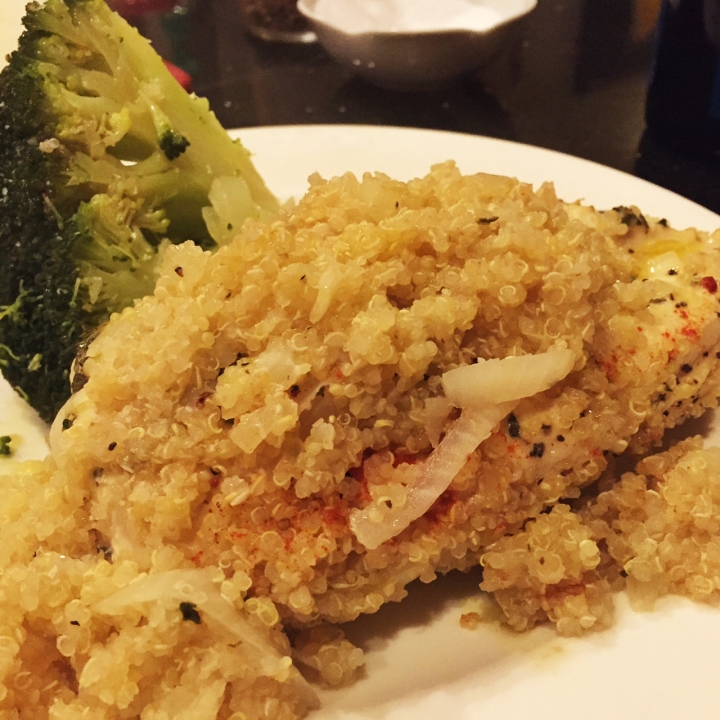 Recipe type: Yield: Prep time: Cook time: Total time:
---
This easy-to-prepare dinner is ideal for single mom's, mom's on-the-go, working moms. mid-week meals, weekends, and Sunday night suppers.
Ingredients:
1 cup pre-washed, uncooked quinoa

2 cups distilled water (or water)

4 6-ounce boneless, skinless chicken breasts

3 tablespoons lemon pepper

1 medium yellow onion, diced

2 tablespoons chopped fresh thyme leaves

1 tablespoon paprika

1/2 tablespoon dry mustard

1 teaspoon ground black pepper

1/2 cup water

3 medium broccoli crowns
Directions:
Cook the quinoa by placing quinoa and 2 cups of water in a medium stockpot over medium-high heat.
Bring to a boil and cover with lid.
Reduce heat and simmer for 12 minutes.
Remove from heat and let sit, covered, for 5 minutes.
Pre-heat oven to 375*.
Lightly coat both sides of chicken breasts with lemon pepper.
Spoon cooked quinoa into 9×13-inch baking dish.
Place in chicken breasts and position to where some of the quinoa is on top of the chicken and some on the bottom and surrounding in the dish.
Add 1/2 of the diced onion, sprinkle in thyme, paprika, mustard, and black pepper.
Pour in 1/2 cup water, a little around sides and in center.
Cover with aluminum foil and bake in oven for 40 minutes or until chicken is cooked through.
Remove from oven and serve.
While chicken is cooking, steam the broccoli.
Place broccoli in a steamer basket and add in remaining diced onion.
Steam for 5 to 8 minutes, or until al dente.
Serve broccoli with 1/2 to 1 chicken breast and 1/2 to 3/4 cup quinoa.
Nutrition based on 6 ounces of chicken with 1 cup broccoli and 1/2 cup quinoa.
Published on by Susan Irby