Low calorie, high fiber, gluten free and under 200 calories per serving, this #SOBikini recipe helps you burn fat, boost your metabolism, and keep you looking and feeling your best! 
Serves: 4 servings
Total Time: 30 minutes
1 tablespoon extra-virgin olive oil
1 medium onion, halved and sliced
2 cloves garlic, minced
1 medium zucchini, halved lengthwise and sliced
1 medium yellow summer squash, halved lengthwise and sliced
1 tablespoon chopped fresh oregano, or 1 teaspoon dried
1/4 teaspoon salt
1/4 teaspoon freshly ground pepper
1 15- or 19-ounce can cannellini or great northern beans, rinsed (see Tip)
2 medium tomatoes, chopped
fine zest of 1/2 lemon
1 tablespoon red-wine vinegar
1/3 cup finely shredded Parmesan cheese
Heat oil in a large nonstick skillet over medium heat.
Add onion and garlic and cook, stirring, until beginning to soften, about 3 minutes.
Add zucchini, summer squash, oregano, salt and pepper and stir to combine. Reduce heat to low, cover and cook, stirring once, until the vegetables are tender-crisp, 3 to 5 minutes.
Stir in beans, tomatoes, lemon zest, and vinegar; increase heat to medium and cook, stirring, until heated through, about 2 minutes.
Remove from the heat and stir in Parmesan.
BIKINI TIP:
Canned beans are convenient but they tend to be high in sodium. keep it #SOBikini… give them a good rinse before adding to a recipe to rid them of some of their sodium (up to 35 percent) or opt for low-sodium or no-salt-added varieties.
Recipe by The Bikini Chef 2012
Squash and White Bean Saute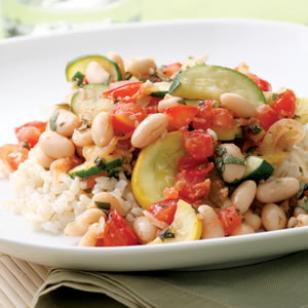 Recipe type: Yield: Prep time: Cook time: Total time:

---
Ingredients:
Directions:
Published on by Susan Irby