A frittata is an open-faced omelet which makes it super easy to cook! No flipping is required until you transfer it out of the skillet and on to a round serving plate.
Frittatas were originally an Italian breakfast creation using leftovers from the previous night's dinner. The featured ingredients here are asparagus and bell pepper and in this recipe, I use some of my favorite spices of cumin, turmeric, and cardamom. However, you can use whatever vegetables you like! Some previous versions I have made include using broccoli florets, green onion instead of white onion, diced fresh tomatoes, chopped green beans, squash, mushrooms, and sometimes corn – organic corn! Equally, other herbs that work well are basil, mint (another favorite of mine), and fresh thyme which are versatile ingredients that add delicious flavor.
I don't eat much cheese anymore and recommend the same to you because of the mucus and digestive interference it can cause, however, if you insist on adding a little cheese, parmesan cheese is a good choice or you can use feta or goat cheese. About a 1/4 cup is more than enough, in fact, 2 tablespoons will do. But, it really does not need cheese, so skip it – for the health benefits and the unnecessary fat and calories.
Nutrition:
Serving size: 1/8 of the frittata (1 slice of 8)
Calories: 76
Fat: 5.2g
Saturated fat: 1.9g
Cholesterol: 166mg
Sodium: 62mg
Potassium: 98mg
Carbohydrates: 1.7g
Sugars: 1.0g
Protein: 5.8g
NOTE: This recipe is does not provide a huge source of fiber. It is, however, high in the minerals of phosphorus which helps build strong bones and teeth, and selenium which helps prevent cell damage from free radicals and regulates the thyroid. Important to note is that eggs are high in the micronutrient, choline. Choline plays a key role in the body by metabolizing the liver and also contributing to brain health among other essential body functions. Other foods high in choline: shrimp, tuna, salmon, Brussels sprouts and broccoli.
In this calorie-slashing collection, The Bikini Chef® Susan Irby offers recipes for switching up ingredients that keep calories to a minimum. Complete with serving-size suggestions and "Skinny Secret" shortcuts to trim calories in little ways, here you'll get expertly crafted recipes that include offerings for every meal of the day!
Books by The Bikini Chef®:

The Bikini Chef® Diet
Substitute Yourself Skinny
Boost Your Metabolism
The Complete Idiot's Guide Quinoa Cookbook
The Clean Separation
$7 Healthy Meals
$7 Quick and Easy Meals
$7 Pressure Cooker Meals
Cooking With Susan : Southern Family Favorites
Vegetable Herb Frittata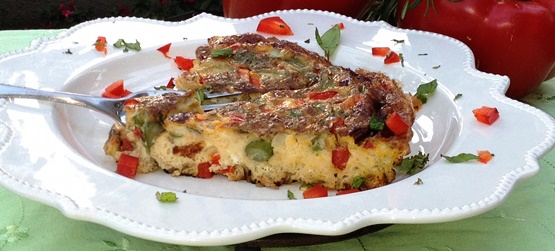 Recipe type: Yield: 8 Prep time: Cook time: Total time:
---
The featured ingredients here are asparagus and bell pepper and in this recipe, I use some of my favorite spices of cumin, turmeric, and cardamom.
Ingredients:
8 eggs

1/2 tablespoon grass-fed butter

1/2 white onion, diced

1/2 medium red bell pepper, seeded and diced

1/3 cup chopped asparagus tips

small pinch sea salt

pinch of black pepper

pinch of cumin

pinch of turmeric

pinch of cardamom

1 to 2 tablespoons chopped fresh cilantro leaves
Directions:
Preheat broiler to high.
Whisk eggs together in a medium mixing bowl.
Heat butter in a seasoned cast iron skillet over medium-high heat.
Add onion and bell pepper and sauté for about 1 minute, or until onion is slightly softened.
Add asparagus, salt, pepper, cumin, turmeric, and cardamom.
Stir together and sauté about 30 seconds, spreading out mixture evenly throughout the pan.
Pour in eggs and tilt pan, if needed, to spread evenly.
Quickly sprinkle on the cilantro.
Cook eggs for about 2 to 3 minutes, using a spatula and tilting pan slightly to left, then right, then forward… to drain some of the runny egg on top to the bottom and sides of the frittata while cooking.
Transfer skillet to broiler and broil for about a minute, checking after 20 second increments to make sure top is lightly browned but not burning.
Once ready to remove from oven, run the spatula around the sides of the pan and gently underneath the frittata to make sure it is loosened from the skillet.
Hold the skillet over a round serving plate; then, quickly (and carefully) turn the skillet upside down to transfer the frittata to the plate.
If desired, place another round serving plate on top of the frittata and flip it over to transfer the frittata to the other plate so that the frittata is facing "right side" up.
Slice into 8 to 10 slices and serve with a mixed green salad for brunch or with fresh fruit for breakfast.
Published on by Susan Irby